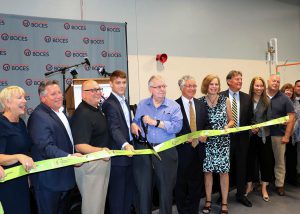 During an Aug. 16 ribbon cutting event, hundreds of education, business and political leaders celebrated the impact our new Career & Technical Education Center – Albany campus, located at 925 Watervliet Shaker Road, will have on both the students it educates and the industries it prepares students to enter.
"BOCES has taken it to another level with the opening of the new Career & Technical Education Center at the Albany Campus," said Brian Hemlock, president of TCI NY. "Through our partnership with Capital Region BOCES, students come to us ready to work and with this new facility they will be even more equipped with the skills they need to be successful."
"As an employer of a successful CTE alumni, we strongly support and applaud Capital Region BOCES on the opening of the Albany Career & Technical Education Center," said Jim Becker, president of MIDTEL Family of Companies. "Workforce development has been an issue and finding employees with the aptitude and desire for working in the telecommunications and networking field has been our industry's biggest challenge recently.  This center is a major step in helping resolve that issue both here in the Capital Region and statewide."
"The opportunity that kids can have to explore in this facility is amazing," added Daniel McCoy, Albany County Executive.  "BOCES is truly changing people's lives."
Preparing Students For In-Demand Careers
The opening of the Career & Technical Education Center – Albany Campus ushers in a new era of education and workforce development for the region. The facility is home to 25 high school programs and several adult education programs that will prepare students for in-demand careers now, as well as careers that will be in high demand in the future.
"Because of our close relationship with business leaders around this region, we are able to prepare our students for the most in-demand jobs now, as well as the jobs that will be in high demand in the years to come," said Capital Region BOCES Senior Executive Officer Joseph P. Dragone, Ph.D.
Work began on the 170,000-square-foot facility in 2020 and it will open to students on Sept. 6, 2022.
Approximately 1,100 high school students are registered for classes in the facility this school year. While registration for adult education courses is ongoing, more than 200 adults are expected to take classes at the new center as well.
The three-story facility is home to the latest in job site technology thanks to the input of business partners who work diligently with BOCES teachers to ensure that students are prepared for the jobs of today and tomorrow.
"This facility is top notch, comparable to the top colleges and universities in this country," said Melinda Mack, Executive Director of the New York Association of Training and Employment Professionals.
One example of the way students will be prepared with the latest and greatest technology is the addition of a Lincoln Electric VRTEX welding simulator for students in the Welding & Metal Fabrication program that was funded in part through a $25,000 grant from the American Welding Society. The BOCES Grant Writing service along with faculty and staff prepared the grant.
Similarly, students in the Heating, Ventilation, Air Conditioning & Refrigeration (HVAC/R) program will benefit from new refrigeration and heat pump trainers that will "simulate problems the students will face as HVAC/R technicians and allow them to observe and better understand the conditions inside a refrigeration system," said teacher Tim Duane.
The following programs will be located at the Career & Technical Education Center – Albany Campus:
Students taking part in these programs prepare for their careers through a combination of hands-on learning and work-based learning that teaches them not only the skills they need, but also provides them with industry connections and experience that is crucial to their future success. Learn about the many courses available to through our Career & Technical Education Center.
"Transitioning from Capital Region BOCES to my job at Albany Medical Center was smooth.  I already knew the scenery and how to do my job and thanks to BOCES had made the connections I needed to be hired and be successful," said Carrera Meyer-Hill, a 2021 graduate of the BOCES Sterile Processing Technician program who prepares medical instruments for surgeries. 
Tour Our New Career & Technical Education Center
Take a virtual tour of our new Career & Technical Education Center with this video: