Maywood School—Soon Maywood Academy—To Open In A New Location This September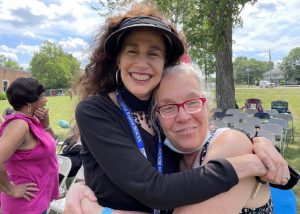 More than a hundred students, teachers and staff, principals, administrators and friends who have been a part of our Maywood School community over the years gathered recently to say good-bye to the school building that many describe as more like home. 
This summer, after 43 years as a BOCES learning space, the Maywood School at 1979 Central Ave. in Albany is closing its doors in anticipation of a move to a brand new location at 925A Watervliet Shaker Road, Albany. The new Maywood Academy, which will host many of our special education programs, will share the campus with our new Career & Technical Education Center. Learning in both buildings will begin  September 2022. 
This summer, the unofficial theme of our Extended School Year (ESY) program at the Maywood School was "Something Old, Something New." The building closing ceremony, created with this idea in mind, offered an opportunity for reunion, remembrance and celebration of good times, meaningful learning and personal experiences.
"As our summer principal, I wanted to help provide a positive transition to the new Maywood building, while also memorializing the building that has been our school for so many years. Maywood School has meant so much to so many people and to me, too," said Special Education Principal Carol d'Estienne, who organized the closing event. "The event seemed like a fitting way to end our summer program with both a goodbye to a place many of us have called home over the years and to look ahead." 
Fond—and Funny—Maywood Memories
Along with d'Estienne, the event featured speakers who shared stories of their time learning and teaching at Maywood. 
Michael Donnelly began his career as a physical education teacher with the Special Education division in 1979, the same year the Maywood School opened as a BOCES school. Donnelly recalled that as an undergraduate at SUNY Cortland he chose adaptive physical education as an elective. 
"I wasn't sure at the time what I would do with it, but I sure am glad I took that class. I enjoy working with the students because they really enjoy physical education, which gives them a way to express themselves," said Donnelly, who plans to continue teaching physical education at Maywood Academy.  
Along with Donnelly, Raymond Roland, who attended the school in the 1940s when it housed South Colonie primary and upper elementary classes, recalled a first kiss in the walkway tunnels that students used to cross Central Avenue, as well as having fifteen (!) sets of twins as schoolmates.
Michelle Rosenberger shared fond remembrances of time as both a Maywood student and employee from 1965 through 2013.  
"I love Maywood School and am happy to share some of my favorite memories," said Rosenberger, who recalled kind and helpful teachers and friends made over the years.
Rosenberger and classmates had the idea for what became the long-running BOCES Prom—a fun-filled event for students who attended our special education programs over the years. 
"We had a great time at the prom. We dressed up, we danced, we talked and we laughed," Rosenberger said. "Maywood will always be in my heart."