October is National Careers in Construction Month, and there's no better place for area high school students and adults to learn the skilled trades than at Capital Region BOCES. 
Nearly 100 area businesses and institutions regularly collaborate with Capital Region BOCES to build the future of the construction industry in the Capital Region and beyond. Their support is crucial not only to student success, but also to the future of the construction industry. 
Some of the partners supporting Careers in Construction Month include the Associated General Contractors of New York State, National Grid, BBL Construction Services, Finke Equipment Co., STS Steel, Milton CAT, Abele Tractor & Equipment Co., Kamco Supply New England and Penske Corp.
View a complete list of construction business partners.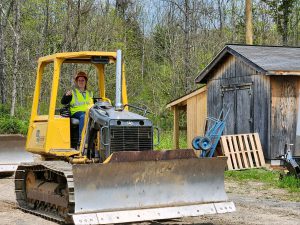 "These partnerships are critical because they allow us to stay on top of what is going on in the industry," said Capital Region BOCES's Joseph P. Dragone, Ph.D. "They also help to place students in good jobs that help grow the regional economy and overcome national unemployment trends."
According to the Associated Builders and Contractors Association, the construction industry will need to bring in more than 342,000 new workers on top of normal hiring in 2024 to meet industry demand, and that's presuming that construction spending growth slows significantly.
From electrical trades to heavy equipment to construction, carpentry, welding and HVAC/R, programming provides students with pathways to great careers.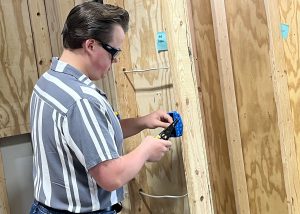 Enrollment in the seven construction-related programs continues to rise with more than 360 high school students from more than 24 area school districts in attendance. This underscores a greater trend of students and their families realizing the value of the skilled trades. 
Among the students enrolled is Savannah Traverse, who attends BOCES from Schoharie High School.
"I want to be able to run equipment on my own and build things on my own and not depend on anyone else to get things done," said Traverse, who is entering her second year in the Heavy Equipment Operation, Maintenance & Repair program on the Schoharie Campus.
Fellow senior Nathaniel Froehlich knew from a young age that he wanted to work in the electrical trades.
"I took an electronics electrical course at Niskayuna (High School) and that really interested me in the electrical trades. That got me really intrigued with all things electricity and now, after just a little time here at BOCES, I know for sure that this is the career for me," the Niskayuna student said.
Nearly all programs provide students with professional certifications, many of which are recognized nationwide by contractors and employers. Many of our adult programs boast a 100%  career placement.  
"The construction industry offers exciting, interesting and rewarding careers—with or without an advanced degree," said Associated General Contractors New York State CEO and President Michael J. Elmendorf II. "Quite literally, our industry and the individuals who make it work,  build New York state! From buildings to bridges and even iconic places like Yankee Stadium or facilities at the Saratoga Racetrack, our members – many of whom are Capital Region BOCES graduates – can proudly say, 'I built that.'"
More stories from Careers in Construction Month
Careers in Construction Month: Senior seeks to prove skilled trades careers are for all genders
Senior puts another brick in the wall of his professional career at Capital Region BOCES
Local plumbing union hopes pipeline for workforce success starts with Capital Region BOCES students
New York State Assembly proclaims October Careers in Construction Month as Capital Region BOCES celebrates the construction industry
Construction business partnerships help Capital Region BOCES students, adults build their futures
Get wired for success through the Capital Region BOCES Network Cabling program
Capital Region BOCES to host Careers in Construction Month – Build Your Future event
National Grid put a charge in electrical students learning at Capital Region BOCES
Middleburgh teen is building a solid future at Capital Region BOCES
High school juniors seek to build careers in male-dominated industry