The U.S. telecom industry expects to create an additional 850,000 jobs through 2025 and the Capital Region BOCES Network Cabling, Wireless Technologies, and Cybersecurity program is the perfect pathway to this great industry.
Offered on the Career & Technical Education Center – Albany Campus, the two-year program helps students develop a unique understanding of today's ever-growing field of network connectivity and emerging technologies.
Through lecture, course work and hands-on activities, students gain the technical knowledge and professionalism needed to prepare them for an after high school career or post-secondary study.
Class of 2022 graduate Tom Rodick is an example of program's ability to prepare students for the burgeoning workforce.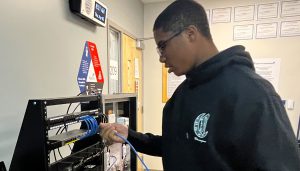 "I work for BBL (Construction Services) doing property maintenance, basically flipping properties for them and preparing them for the next tenants. While I am working, they are fully reimbursing me for my degree, so they are not only paying me a salary, but they are also paying for my college," said Rodick, who attends the ECM program at HVCC.
Throughout October, Capital Region BOCES – in conjunction with its business and higher education partners – is celebrating national Careers in Construction Month by highlighting the multitude of careers and opportunities that exist in the industry and the effort BOCES undertakes to prepare students for those careers. 
Class of 2023 graduate Nick Ferrozi said "The program is awesome. You learn a lot of real life skills that will help you in life and in your career, like how to work in a team, how to manage your day."
Classmate Cody Sherwood agreed.
"The hands on learning involving ethernet and fiber optic cables gave me the knowledge I need to excel in a career in the Network Cabling Industry," said the Middleburgh High School graduate.
Teacher Ed Henson said the program "prepares the workforce needed to build out and cable this new infrastructure."
For more information on the Network Cabling, Wireless Technologies, and Cybersecurity program, visit https://www.capitalregionboces.org/career-technical-education/courses-programs/network-cabling-smart-home-technology/.