More than a dozen high school students hope to be flush with knowledge of the plumbing industry courtesy of the experts from UA Local 7, Plumbers and Steamfitters union.
Building Trades students on the Capital Region BOCES Career & Technical Education Center – Schoharie Campus learned this week the basics of plumbing, including PVC draining/vent fittings, basic plumbing code, plumbing math, jobsite safety and how to install a sink.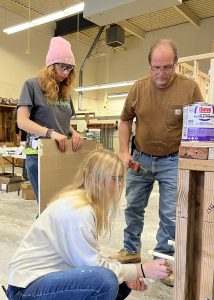 "We are here to get kids interested in the plumbing trades," said Tom Carrigan, President and Marketing Director for UA Local 7, Plumbers and Steamfitters.
During one part of the lesson, students leveled and connected PVC pipes within a frame of a wall that then led to a sink they installed.
"These guys did great. I was pretty impressed with everything they are doing," Carrigan said. "It's gratifying to see the kids really want to do something. There isn't one student standing around.
Students said they appreciate the ability to learn a new skill set and value the opportunities it affords them.
"These are great skills to learn because it's something I can use in real life. Even if I don't become a plumber, I can still install my own sink," said Breanna Parrotti, a senior from Sharon Springs Central School District.
Classmates Brendon Chrysler and Cal Jones concurred.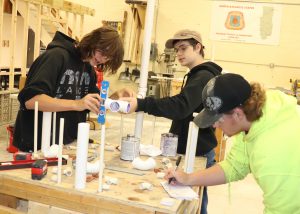 "It's good to learn something new and gain some real life experience," said Jones, who attends BOCES from Berne-Knox-Westerlo High School.
"I like that this shows us a lot of the different opportunities that exist within the industry," added Cal Jones, a Cobleskill-Richmondville High School senior enrolled in BOCES.
Capital Region BOCES Managing Program Coordinator-Business & Community Partnerships Nancy Liddle said the plumbing union will bring the training to other programs on the Albany and Schoharie campuses later this school year.
"The hands-on, real life experience ignited student engagement," she said.
BOCES, she said, is ultimately working towards launching its own full-time plumbing program for high school students to enroll in for the 2025-26 school year.
BOCES works with more than 300 business, education and labor partners—such as Local 7—to provide training and career opportunities to the 1,200 students enrolled in Career & Technical Education programs at Capital Region BOCES.
For information on how to become a business partner or how to host students for work-based learning, contact Liddle at 518-862-4823 or nancy.liddle@neric.org or go to https://www.capitalregionboces.org/career-technical-education/business-partners/.