Evolving technologies and an aging workforce is combining to put a charge in the futures of young adults with knowledge of the electrical trades,
The U.S. Bureau of Labor Statistics forecasts a 9% increase in the national electrical trades workforce by 2031. With the median U.S. Salary for electricians at $60,040 in 2021, the career offers workers a comfortable living and financial security.
Add to that the change to renewable energy sources and the constant demand for new workers to fill that burgeoning industry and the opportunities are literally limitless for those workers with the skills and drive.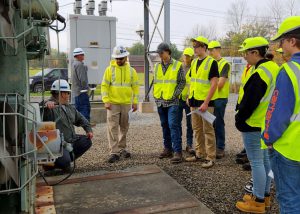 "We are developing green-collar jobs—even in our gas division, we are looking at a non-carbon gas system—and we need a source of workers like BOCES to ensure we have the workforce necessary to accomplish those goals," said Brian Sano, Regional Director of National Grid during a tour this summer of the Electrical Trades labs on the Albany Campus.
The Capital Region BOCES Career & Technical Education Electrical Trades program teaches students the fundamental skills in electrical theory through classroom instruction and hands-on shop lessons. Through this training they can become successful residential, commercial and industrial wiring professionals.
 Upon graduation, many pursue higher education to further their skills; others seek apprenticeships in local unions while still others enter the workforce.
Throughout October, Capital Region BOCES – in conjunction with its business and higher education partners – is celebrating national Careers in Construction Month by highlighting the multitude of careers and opportunities that exist in the industry and the effort BOCES undertakes to prepare students for those careers. 
"The Electrical Trades program was a fun and easy way to prepare to be an electrician," said Class of 2023 graduate Sa-id Jones.
An aspiring union electrician, Jones built a solid resume at BOCES by earning National Technical Honor Society induction as a junior and maintaining membership his senior year.
"I like the hands-on work we had in the program. It doesn't feel like a school, you feel like you are in a work environment with your friends," Jones said.
Griffin Boehlke found a job in the industry even before completing the electrical trades program in June.
Boehlke started work at Gray Electric Motor & Pump Repair Co. in the Spring after completing a work-based learning assignment through BOCES with the Rotterdam business,
"It's great to get a job and an education through BOCES," said Boehlke. "I love the work and the people are pretty amazing."
For more information on the Electrical Trades program, visit https://www.capitalregionboces.org/career-technical-education/courses-programs/electrical-trades/ .