Seniors in the Capital Region BOCES Digital Media Design program are showing their knowledge of design theory and social media with a project that promotes electric mobility and sustainability.
Students in Barb Gorbaty's program at the Career & Technical Education Center – Albany Campus created images and posts to be used to promote the NY Capital District Drive Electric Week.  Organizers said the event, which will take place on Oct. 1, is the largest attended event in the country. 
The students created social media posts after researching and learning the various design element requirements for the various social media platforms.
"It was a fun project," said senior Evan Agan from the Ravena-Coeymans-Selkirk Central School District. "I started with a template and then branched off of that using what I have learned at BOCES and what I know about advertising."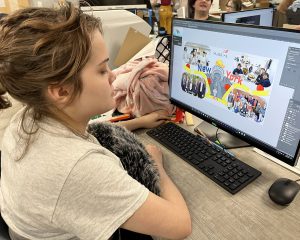 Also taking part in the project were seniors Lillian Sweeney, of Guilderland, and Kaylee Marrano, Shenendehowa.
Teacher Barb Gorbaty said students created the designs at the request of BOCES business partner Livingston Energy Group who is a major sponsor of the event.  The images and posts will be used during the upcoming week.
"The response from Livingston Energy Group, Schenectady Greenmarket, City of Schenectady, and the NY Capital District EVA to the designs has been very, very positive," she said. "They have even forwarded them to the National Electric Vehicle Association for their consideration."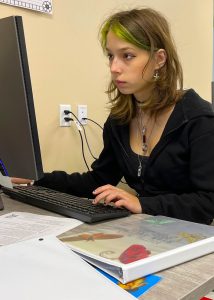 Kate Kruk, Director of Community Engagement for Livingston Energy Group, said Livingston Energy officials understand the value of engaging students in the work. 
"We know that connecting students with real-world experiences is important for students to learn and engage with the career path they are pursuing. Livingston and the New York Capital District Drive Electric Week committee are proud to be able to offer this opportunity and appreciate the great work these students have created," she said.
Students in the two-year Digital Media Design program learn professional skills in industry standard software while developing a working knowledge of design theory and practice. They also engage in the same project planning and execution processes that are consistent with industry practice and demonstrated their technical abilities through the Adobe Certified Expert program.