A Schoharie High School senior is on a path to show that women belong in the skilled trades industries.
"I want to be able to run equipment on my own and build things on my own and not depend on anyone else to get things done," said Savannah Traverse, a second year student in the Heavy Equipment Operation, Maintenance & Repair program on the Schoharie Campus.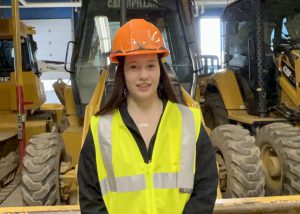 Throughout October, Capital Region BOCES—in conjunction with its business and higher education partners—is celebrating National Careers in Construction Month by highlighting the multitude of careers and opportunities that exist in the industry and the divergent population of students enrolled at BOCES in preparation for those careers.
Traverse is one of more than a half-dozen women enrolled in the Heavy Equipment Operation, Maintenance & Repair program this year taught by Matt Millard. 
That represents about 15 percent of the 39 students enrolled in the program from Schalmont, Schoharie, Cobleskill-Richmondville, Duanesburg, Middleburgh, Sharon Springs, Berne-Knox-Westerlo and other area school districts.
This summer, the teenager helped a friend with "doing framework on a house" and is happy to be back in school "gaining more experiences in my class and growing my skills."
At BOCES, Traverse is learning the skills necessary to enter the construction industry or pursue further education in college or technical school. She and classmates learn everything from maintenance skills and how to construct a building to equipment operation, including use of a plow, dozer and front end loaders.
"The people here, the opportunities they give you and the experiences you have together are my favorite part of the school day because it prepares you well for your future," Traverse said.
Traverse said she chose a career in the trades because "my older brother took the construction/heavy equipment program and I knew this program would give me a lot of experiences doing things that I had never done before."
Capital Region BOCES Managing Program Coordinator-Business & Community Partnerships Nancy Liddle praised Traverse.
"Savannah has self-motivation and enthusiasm and strives each day to make a difference. Her positive attitude and passion for learning new things is commendable. Between sports, her involvement with the Future Farmers of America organization, work and CTE, her time management skills are noticed," Liddle said.
Millard offered similar praise. 
"Savannah is a very goal-oriented and focused student. She is always eager to try new things. Her ability to ask questions and look for ways to improve whatever task she is undertaking will serve her well in future endeavors," he said.