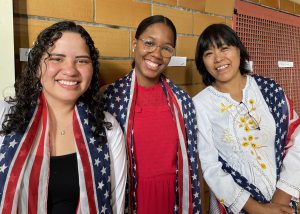 More than 50 adults from the Capital Region and beyond were celebrated on Aug. 24 for their many accomplishments in our High School Equivalency (HSE) and English as a Second Language (ESL) programs.
For some of the graduates, the event recognized achievement of a lifelong goal. For others, it marked an accomplishment that will allow them to achieve even more.
Among the 2022 graduates was Amina Benjamin who attended the HSE program to prepare for the high school equivalency exam.
"The [HSE program] was so helpful and meant a lot to me," said Benjamin. "I took the exam a couple of times back in 2012, but was just ten points short of passing. This was really discouraging to me, so I stopped trying. Ten years later, I said to myself 'Amina, it's time.'" 
After just a few months in our HSE program, Benjamin was able to achieve success with the test.
"I can, finally, move ahead with my education in ways I have always wanted," said Benjamin, who now plans to study for a career in nursing. 
Another of the graduates, Rosiris Ortega, praised the preparation our ESL program offered. Along with completing the ESL program, Ortega completed coursework to become a licensed childcare provider through our partnership with Brightside Up, Inc.
"We are so pleased to offer the courses and programs adult learners need to re-direct their lives and find their place in today's work world," said Maria Huntington, supervisor of adult education and programming at Capital Region BOCES.  "It is such an honor to serve these adults and help them achieve their many goals."
Learn About Our Adult Education Programs
The HSE and ESL graduates are just some of the approximately 1,000 adult learners we serve annually. Many of the adult learners are pursuing education in the post-secondary trade programs such as heating, ventilation, air conditioning (HVAC), welding and nursing.
Learn about Capital Region BOCES' High School Equivalency (HSE) and English as a Second Language (ESL) programs, as well as dozens of other courses available to adult learners through our Career & Technical Education program.