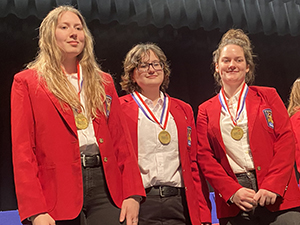 Nearly two dozen Career & Technical Education students showed in-depth knowledge of the skilled trades and earned medals at the regional SkillsUSA competition Wednesday, March 16.
The students showed expertise in such diverse areas as carpentry, commercial baking, diesel engine repair and networking. They competed against their peers from Questar III and other BOCES during a day filled with events at Schenectady County Community College (SCCC) and Stratton Air National Guard Base.
The six first-place winners and many of the other medal winners in this competition will now advance to the state SkillsUSA competition at the New York State Fairgrounds in Syracuse, April 27-29, 2022. Winners of that event will advance to the national competition in Kentucky in June.
"Congratulations to our scholars at the area SkillsUSA Competition. They all did a fantastic job and we are very proud of them," said Shelette Pleat, principal of the Career and Technical Education Albany Campus and a regional SkillsUSA administrator.
Pleat went on to encourage the students to take pride in all they do.
"Be proud of the work you have done and be proud of the skills you have earned that have brought you here," she said.
Headed To The State SkillsUSA Competition
Students said they are looking forward to the state competition.
"I am looking forward to doing it again and winning (again), said Chloe-Jean "CJ" Thomas, a Criminal Justice student from Middleburgh whose team won the Crime Scene Investigation (CSI) competition.
"It's fun to see how well you do against others with the same interest," said Zach York of Cobleskill-Richmondville (CRCS), who took first place in the welding and metal fabrication contest.
2022 SkillsUSA Competition Medalists
This year's regional SkillsUSA medalists, their home school district and the competition they placed in are as follows:
First Place
Elaina McGrath, Cosmetology, Cosmetology, Bethlehem
Tom Rodick, Prepared Speech, Network Cabling-Smart Home Technology, Shenendehowa
Zach Yorke, Welding, Welding, CRCS
The team of Breanna Powell, Sharon Springs, Chloe-Jean "CJ" Thomas, Middleburgh and Erin Haugh, Cobleskill-Richmondville, CSI, Criminal Justice.
Second Place
Matthew Bellinger, Action Skills Basic, Pet Tech, Shenendahowa 
Brody Below, Auto Vehicle Maintenance, Automotive Trades, Guilderland
Jocelyn Howe, Job Interview, Global Fashion Studies, Mohonasen
Chris Piccini, Welding, Welding, Voorheesville
Ciara Savel, Commercial Baking, Culinary, Schoharie
Madison Westerman, Criminal Justice, Speaking, Sharon Springs
Third Place
Woudener Clement, Carpentry Assistant, Carpentry Services, South Colonie
Ryan Hobart, Welding, Welding,  Mohonason
Emily Tice, Commercial Baking, Culinary, Guilderland
Carlie Tucker, Culinary Arts, Culinary Arts, Shenendahowa
Fourth Place
Ashlyn Knapp, Job Skill Demo, Pet Tech, South Colonie
Fifth Place
Jade Ocampo, Commercial Baking, Culinary, Shenendahowa
Ariana Valle,  Cosmetology, Cosmetology, , Shenendahowa
The team of Mason Welch, Duanesburg, Rhiannon Isip, Sharon Springs and Jeff Caron, Berne-Knox-Westerlo, CSI, Criminal Justice