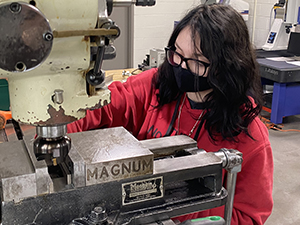 March is Women in the Trades Month. Throughout the month, we're shining a spotlight on women in the trades who are building solid futures through their time at Capital Region BOCES.
 "I feel like I was meant to do this—this is one of my talents and I was meant to use it." 
So said Scotia-Glenville High School senior Allison Umstadter as she was preparing a lathe—a machining tool used primarily for shaping metal or wood—in the Career & Technical School machining lab.
Umstadter is one of 14 students in the Manufacturing and Machining Technology program that teaches students design and prototype skills, as well as how to troubleshoot design problems and undertake the diagnostics necessary to manufacture a part. Students also learn how to operate everything from drill presses to the 3D printers. 
She enrolled in the program before the start of her junior year because it intrigued her. That intrigue has grown to love and she will now follow that love to Hudson Valley Community College where she will pursue a degree in the Advanced Manufacturing Program. 
"I'm very well prepared for a career in manufacturing and to learn more about it because of my experiences at BOCES," Umstadter said.
Indeed, Umstadter is already earning money with her machining skills thanks to a paid work-based learning experience at Greno Industries that was arranged by BOCES administrators.
"The people [at Greno] are great and taught me techniques that I can use now and in the future," she said.
Recruitment Now Underway for 2022-23
Interested in earning skills for one of today's in-demand careers? Want to do it your own way? Students in our component districts are encouraged to explore our Career and Technical School and its 40+ offerings.