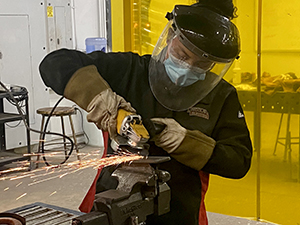 March is Women in the Trades Month. Throughout the month, we're shining a spotlight on women in the trades who are building solid futures through their time at Capital Region BOCES.
For Darielys Maya, attending our Career & Technical School was all about finding the career that is right for her.
"I like hands-on learning and I like to work with heat, so this is a good fit," said the Guilderland senior.
After nearly two years of learning in the Welding and Metal Fabrication program, the teenager is planning for a career in an industry she previously knew little about.
"I look back and never could have imagined myself in a welding lab, but now I can't imagine myself not," she said. "In regular school, you sit all day and listen to the teacher. Here, you are up, moving around, doing stuff and learning."
Exploring New Career Options
Maya is one 68 students now attending our welding program. She chose the program to explore a new career option and to fuel her creativity, as well as her desire to be active.
"I am into art and took some advanced classes in my school. I like to paint, but now I am exploring sculptures with welding," she said.
Among the top students in the welding program, Maya is looking to forge a career and pursue additional training.
"I am really interested in learning more about pipe welding, and if I can't learn more about it at (in college), than I will probably just go into the workforce," she said.
Maya said BOCES, and specifically the welding program, is a great opportunity for all students.
"There's nothing bad about having welding skills and it can set you up well professionally," she said.
Recruitment Now Underway for 2022-23
Interested in earning skills for one of today's in-demand careers? Want to do it your own way? Students in our component districts are encouraged to explore our Career and Technical School and its 40+ offerings.