Culinary students got a taste for restaurant life, as they prepared and served an Irish feast for more than 100 people, including a host of dignitaries for the school's annual St. Patrick's Day feast.
During an 11:30 a.m. lunch seating, students executed the restaurant scenario of preparing and serving dozens of meals in a one-hour window. They even learned how to properly cure the corned beef – a process that takes about a month, said Chef Paul Dolan, one of the BOCES culinary teachers.
"You can't get any more real than pushing 100-plus dinners out the door all at once and overcoming such obstacles as lost prep time," said Dolan, noting Tuesday's blizzard-forced closure of school, Dolan said a typical restaurant will serve about 200 meals over the course of several hours.
Among the many dignitaries on hand enjoying a feast of corned beef, cabbage, Irish soda bread and more was U.S. Rep. Paul Tonko who praised the students and BOCES.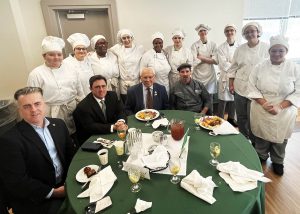 "This is fabulous, a great event," he said while shaking hands with Dolan, who has overseen the luncheon for 23 years.
The congressman added that "BOCES underscores all the gifts and skills that people have, nurtures them and enables them to succeed."
Students prepared the meals during recent weeks, putting the finishing touches on them Wednesday morning in a frenzied but controlled manner.
Menu options included corned beef brisket with cabbage and root vegetables, braised lamb stew with champ, salad and Irish soda bread.
Students enjoyed the frenzied lesson.
"It's really great because we get to meet a lot of influential people,' said Paige Harrison, who attends BOCES from Guilderland.
"This really helps us with not only our culinary skills, but our people skills," added Genevieve Cooper, a Shenendehowa student.