On Feb. 16, students in Becky Breeyear's class at Airline Drive Academy celebrated the 100th day of school with a fun math lesson involving 100 bright red cups. But this wasn't an idea Breeyear cooked up, or one she even led. The activity was courtesy of Malachi Lee, one of Airline's middle schoolers.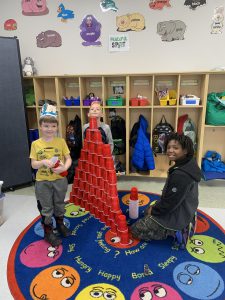 Lee and other students are part of the newly formed Big Buddy & Little Buddy program, which partners older and younger students for friendship, mentorship and learning.
"Malachi is an amazing Big Buddy," said Breeyear. "He was so nervous before the activity, but I told him what a great teacher he is and how good he is with the children. He kind of shrugged it off, but then I saw him pull back his shoulders and stand a little taller. I don't think he'd ever thought about himself that way."
Learning Mixed with Fun
Older students interested in being a Big Buddy met first with program organizers Rebecca Dysard, an educational coach at Airline, and Assistant Principal Amanda McNeal to discuss what it means to be a Big Buddy and what they might do together with their Little Buddies. They were then asked to submit a short application explaining why they wanted to be a Big Buddy.
"The Big Buddies were very eager and excited to fill out their applications. I ended up getting most of them back that same day!" said Dysard.
The Big Buddies now meet regularly with their younger buddies—sometimes for one-on-one help with schoolwork or for games such as freeze tag and Connect 4, and sometimes for larger group activities. A recent favorite was a gooey oobleck-making craft led by Big Buddy Xylah Castro along with a classroom reading by teacher Lauren Farr of Bartholomew and the Oobleck by Dr. Seuss.
"Our younger students love having Xylah in our classroom," said Farr. "It has been a motivator for my students to get their work done so they can have time to spend with Xylah."
"Jerimiah has been a great big buddy to our class," added Teacher MacKenzie Houlihan. "He is so kind and understanding of the younger kids and really helps with our transition times—something the littles have a difficult time with. A couple of times when Jerimiah has been stuck on what to do, we have talked about other things to try. He is gaining a lot of confidence and the younger kids love having him in the room."
"I just love to see the smiles on their faces," added Jerimiah Little.
Stretching the "Stick-To-It" Muscle
The Big Buddies also meet regularly to talk about what is going well and get some advice on how to work through difficulties they may be having. Already, the adult organizers are seeing a lot of growth and perseverance on the part of the Big Buddies.
Kaysen Shelley shared that the first couple of visits with his younger buddies didn't go the way he had planned, which was discouraging.
"We talk with the Big Buddies about the need to be good and patient role models—this isn't always easy when someone is having a difficult day or things don't go the way we planned," said McNeal. "Kaysen and I were able to talk about how he might use this as an opportunity to change things up, instead of giving up."
"Kaysen was a great advocate for himself and the situation. He did some reflection and together we came up with a new plan to try."
Positive Outcomes for All
The main goal in starting the Big Buddy & Little Buddy Program at Airline has been to offer opportunities for connection and leadership that can benefit both the older and younger students involved with the project. By all accounts, that is just what's happening.
"We knew we wanted to build a strong new community at Airline Drive Academy. This was especially important because we were bringing an elementary and a middle school together for the first time," said Dysard.
"We were in the middle of the pandemic when Airline opened in 2020, so there were limited opportunities for social interactions," Dysard continued. "We'd done traditional reading buddies programs at the other schools, but liked the idea of trying the Big Buddies & Little Buddies program here as a way for the kiddos to get together for academics, but more as a way to socialize. They missed out on so many social opportunities in the last years. There are many positive outcomes of a Big Buddy & Little Buddy Program, and we are already seeing so many."
"[Big Buddy & Little Buddy] is truly a program to be proud of and something that will continue to grow!" added McNeal.