A Schoharie High School teen values independence and believes the skilled trades are for everyone and she is now on a path to show just how genderless the industry can be.
Savannah Traverse is a junior in the Residential Construction/Heavy Equipment program, where she is learning the skills necessary to enter the construction industry or pursue further education in college or technical school. They learn everything from maintenance skills and how to construct a building to equipment operation, including use of a plow, dozer and front end loaders.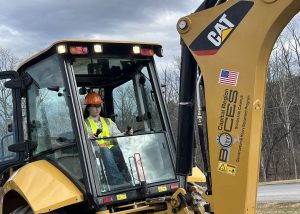 "I want to be able to run equipment on my own and build things on my own and not depend on anyone else to get things done," Traverse said while taking a break from operating a backhoe.
The 16-year-old is currently deliberating whether to pursue a career as a heavy equipment operator in the military or as an agriculture teacher. Either way, she said BOCES is preparing her well for a career and a successful future.
"The people here, the opportunities they give you and the experiences you have together are my favorite part of the school day because it prepares you well for your future," she said.
The Schoharie teen is one of more than a half-dozen women enrolled in the Residential Construction/Heavy Equipment program this year taught by Matt Millard and Matt Hitchcock. There are a total of 76 students from Schoharie, Ravena-Coeymans-Selkirk, Cobleskill-Richmondville, Duanesburg, Middleburgh, Sharon Springs and Berne-Knox-Westerlo school districts enrolled in the program.
March is Women in the Trades Month
March is National Women in the Trades Month and throughout the month, Capital Region BOCES Career and Technical School is shining a spotlight on women in the trades, like Traverse, who are challenging stereotypes and building solid futures through their education in our programs.
Traverse said she chose a career in the trades because "my older brother took the construction/heavy equipment program and I knew this program would give me a lot of experiences doing things that I had never done before."
She said that she has only encountered support and encouragement while pursuing training in an industry that, according to most recent statistics, is about 94 percent male.
"The more people you talk to, they all want you to be more involved and give you more experiences and to know that it is not just for men, but also for women. They want you to know that anyone can do it," Travers said.
Capital Region BOCES Managing Program Coordinator-Business & Community Partnerships Nancy Liddle praised Traverse.
"Savannah has the self-motivation and enthusiasm and strives each day to make a difference. Her positive attitude and passion for learning new things is commendable. Between sports, her involvement with the Future Farmers of America organization, work and CTE, her time management skills are noticed," Liddle said.
Residential Construction/Heavy Equipment teacher Matt Millard offered similar praise.
"Savannah is a very goal-oriented and focused student. She is always eager to try new things. Her ability to ask questions and look for ways to improve whatever task she is undertaking will serve her well in future endeavors," he said.
Learn more about Women in Trades and our programs
We celebrate and applaud women in the skilled trades well beyond the month of March but are using this time to encourage even more young women to consider non-traditional career paths by showcasing current female students and successful female graduates. Read more about our Women in the Trades!
Enrollment in programs – including Residential Construction/Heavy Equipment – is currently underway for the 2023-24 school year. Learn more about our career and technical school programs.