Principal Shelette Pleat took to the Automotive Trades and Welding & Metal Fabrication classrooms of the Career & Technical Education Center – Albany Campus. However, she wasn't popping in to speak to students or observe teachers; rather the principal became a student, shadowing the young learners in both programs.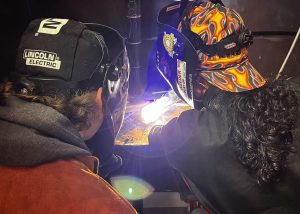 "It's important to get out into the classrooms and see what our scholars are learning, experience what we ask them to learn and grow from," said Pleat.
Working with seniors in the automotive trades program taught by Scott Tessier, Pleat learned engine performance systems and what impacts an engine from running efficiently and effectively.
While in Donald Mattoon's afternoon Welding & Metal Fabrication class, the longtime educator learned how to oxy-fuel cut using an oxy-fuel torch and stick weld.
"It was a lot of fun and informed for me just how impressive it is for our scholars to learn these skills in addition to the knowledge they are learning I their home district," Pleat said.
Students said they enjoyed the interaction with the principal, even if it could be intimidating.
"It's a little nerve-wracking to be honest," said senior John Little, who attends the welding program from Scotia-Glenville High School. "But it has been fun. She took the information and used it well."
That notion was seconded by classmate Clay Smith of Berne-Knox-Westerlo High School.
"She did well. It was fun and she got the hang of it all pretty quick."
Pleat plans to undertake further shadowing this school year in departments including: Carpentry Services with teacher Pat Wyman, Heating/Ventilation/Air Conditioning and Refrigeration with teacher Tim Duane, Cosmetology II with teacher Mollie Daley, Machining and Manufacturing with teacher Kody Skeals, Culinary with Chef Rother and Network Cabling/Smart Home Technology with teacher Ed Henson.