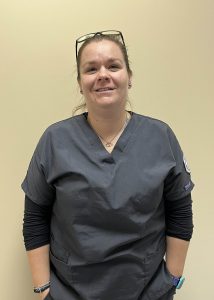 Cassidy Knapp is a student in the BOCES Adult Practical Nursing program at the Career & Technical Education Center – Albany Campus. More than a dozen years ago, she was also a healthcare student at BOCES, studying to be a certified nurse assistant (CNA) while a student at Scotia-Glenville High School.
"I basically decided this year that it's time for me to do something with my life, to serve a purpose. I graduated from the CNA program 15 years in high school, and I knew BOCES has a good program, so I came back here to become a nurse," Knapp said.
Knapp even has the same teacher that she did in high school – Linda Keifer.
"Mrs. Keifer is great," she said. "She helps us so much."
Knapp said she worked as a CNA for several years after high school, until a tragedy in her personal life led her away from healthcare.
"I was a delivery driver for a while and I basically got to the point where it was the time in my life to do something with myself and I decided nursing would be the path," Knapp said. "I am a very nurturing person and I like to help others."
Keifer said Knapp has the skills to do very well professionally.
"Cassidy is professional, caring, conscientious, willing to assist her peers, and has an excellent rapport with everyone and that has not changed in 15 years," the longtime educator said.
Learn about our Adult Education programs
Knapp is one of more than 130 adults enrolled this year in the Adult Practical Nursing program. The program prepares students for one of the fastest-growing and most in-demand jobs in the nation. The U.S. Bureau of Labor Statistics projects a 9 percent increase in demand for LPNs between now and 2029. That, coupled with the fact that LPNs earned a median salary nationally in 2019 of $47,480, makes it the right time to enter this exciting field.