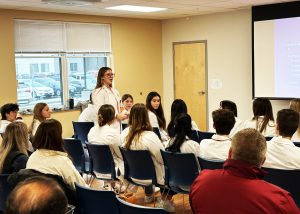 Forty-six high school juniors from more than a dozen area school districts attended an information session recently on the  New Visions: Health Careers program.
The students are interested in attending during the 2023-24 school year the honors-level New Visions program that prepares high school seniors for more than two-dozen health care careers and immerses them in a thought-provoking and challenging curriculum designed to build their knowledge of the human body and medicine.
During the Jan. 20 open house at the Capital Region BOCES Career & Technical Education Center – Albany Campus, the prospective New Visions students heard from instructors Ken Bevan and Thomas Slovic, as well as current students including Lyndsy Bilby, who attends the program from Cobleskill –Richmondville High School, and Alleda Hawron, from Cohoes.
Students from high schools including Scotia-Glenville, Guilderland, Schoharie, Shenendehowa, Burnt Hills-Ballston Lake, Schenectady, Ravena-Coeymans-Selkirk, Berne-Knox-Westerlo, Mohonasen, Niskayuna, Voorheesville, Green Island and Cobleskill-Richmondville attended the event.
Located at Ellis and St. Peter's hospitals, the New Visions: Health Careers program has graduated students into a host of careers, from physician and registered nurses to physicians assistants and nurse practioners.
"Attending New Visions is helping me learn about health care professions and gain knowledge and learn about the ethics of medicine," said current student Samantha Baccari, who attends the program from Scotia-Glenville High School.
A 2009 graduate of the program, Jennifer Tsui, attended graduate school for Diagnostic Medical Sonography after graduating from SUNY Buffalo with a bachelor of science degree.
"New visions pushed me out of my comfort zone. It made me ask questions, made me interact with people and made me be more comfortable talking to strangers. It gave me real life experience that I would not get sitting in a classroom," she said.
Learn more about the New Visions Health Career program
Students in this program obtain up to 130 observation hours in over 30 different clinical rotations. Clinical rotations take place at their respective hospitals and several off-site clinics throughout the region. Students learn about different health related careers and career opportunities through clinical rotations, guest speakers, medical grand rounds and field trips. As a result, students form a clearer vision of their college and career goals by acquiring first-hand knowledge of the day-to-day demands and rewards of various health care professions.
For more information on enrolling in New Visions for the 2023-24 school year, students should contact their school district counselors and/or contact the Capital Region BOCES Career & Technical School Counselor Nicole Almeida at 518-464-3986.