November 2021 Commitment Award For Leadership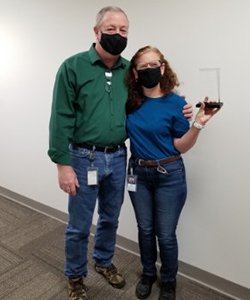 Melissa Peck, a member of our Buildings & Grounds team,  is the recipient of our November 2021 commitment award for leadership.
In nominated Melissa for this award,  Director of Facilities Thomas Mott said that Melissa regularly goes above and beyond when ensuring the cleanliness and upkeep of our 900 Watervliet-Shaker Road site.
"When we brought Melissa on at the 900 building, her job duties enlarged to meet the more complex needs of this site. After a week of getting to know the building routine and the staff, she not only took on the 'normal' work, but pushed herself to achieve a greater level of care and cleanliness that this site has not seen."
"The detailed lengths that she goes to while working are much more than is asked of her," "Mott continued. "She looks for problem areas and works to create solutions for them, and always accommodates with a smile and care."
Additionally, Melissa has helped orient new members of our custodial staff, helping them gain knowledge of their jobs and the worksite, and guides students in our Work-Based Learning (WBL) program in their work tasks at the 900 building, such as paper recycling, 
"Melissa is a very positive addition to our team because of her work ethic and her ability to work with staff in the building in such a positive manner," Mott said. 
The Commitment Awards were established to recognize employees who embody each commitment to a significant degree, and is one part of a three-tiered recognition program to build a culture of gratitude through acknowledgment and appreciation. Our Commitments — SERVICE, VALUE, EXCELLENCE, IMPROVEMENT, LEADERSHIP — embody what we do and who we are.