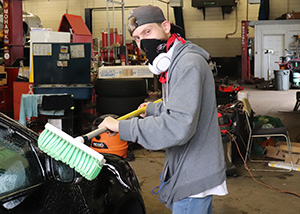 This year, our long-running Work-Based Learning (WBL) program for 18- to 21-year-olds has a new home—in the heart of the BOCES administrative offices. Here, students meet daily for classroom-based learning relevant to a work-based curriculum. They are also providing support for the BOCES teams—from organizing paper recycling to assisting with inventory and distribution of needed personal protective equipment (PPE) for our teachers and other school-based staff.
"We wanted an experience for the students that would feel different than being in high school," said Special Education Principal Carol d'Estienne. "The new location is providing the students with a more adult experience and lots of opportunities to learn what the 'behind the scenes' BOCES staff do to support our programs and students." d'Estienne said in addition to taking on essential jobs around the building, students have had the chance to interview members of the BOCES administrative and support teams to learn what goes into the work they do.
The program's centralized location also offers ready-access to a variety of job sites located in the surrounding community. Here, students have the opportunity to explore a variety of jobs and practice the skills needed to be successful with them.
Opportunities to Explore New Career Paths
The program's teachers work carefully to help match students with work-based learning opportunities that support their interests and give them opportunities to hone their interpersonal and job skills. For many of the students, each experience they rotate through is an opportunity to learn about jobs they didn't know about, but may want to pursue. For example, after experiences in the kitchen at Schenectady's City Mission and now while working to ready lunches for students at Birchwood Elementary, student Antonio DiSanto thinks he may want to work in the field of food preparation or service.
In some cases, student's interests and skills align with the work of one of the program's business or community partners. This has been the case for student Jakob Winters, who is interested in a career as a personal trainer and is now assisting Physical Education Teacher Travis Kemmer at our k-8 school, Airline Drive Academy. Too, student Blaine Cunningham is job shadowing and supporting the mechanics and service team at Metro Ford.
Cunningham said the program is offering him the chance to take a deeper-dive into the field of automotive service, which he studied during high school at our Career & Technical School. For Cunningham, the hands-on, real world experiences the program offers feels like just the right fit.
"This isn't just sitting in a classroom, this feels more adult," said Cunningham, "and I am able to get dirty working on cars, which I love."
Business/Community Partners Support Work-Based Learning 
For students who attend our Special Education programs, community and business support helps expand their classroom learning and offers meaningful workplace exploration and job experiences. Some of our business/community partnerships, include:
Metro Ford Sales, Inc.
Niskayuna Central School District/Birchwood Elementary
Plato's Closet
Price Chopper Supermarkets
Learn About Our Special Education Programs
The Work-Based Learning program is designed to help students learn how to work well, be employable, independent and successful, and to give back to their community. Learn more about Work-Based Learning and our other Special Education programming for students, kindergarten through age 21.