High School Teams Compete for Esports Title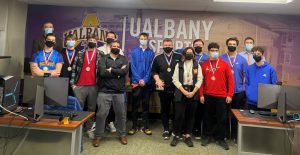 Thanks to The University at Albany, student Esports teams from the Mohonasen and Washingtonville Central School Districts were able to compete face-to-face at the New York High School Esports Rocket League Championship. For some students, it was the first time this year they were able to play together in person.
The two teams qualified through a 16-team virtual playoff this month and met on Dec. 16 for the championship game at UAlbany's state-of-the-art competitive video gaming arena, which is located on the Downtown Campus and features more than a dozen high-performance Alienware Computers and six Nintendo Switches.
Launched in the Spring of 2019, UAlbany eSports competes alongside 100 other colleges and universities in the Eastern Collegiate Athletic Conference. The team has recruited more than 140 students who compete in all 11 games offered by the ECAC.
"UAlbany is proud to have hosted the first NYS High School Esports Championship in Rocket League with BOCES and NERIC. As a part of a team, students develop skills is many areas including communication, collaboration, dedication and professionalism. Participation in esports continues to grow at an unprecedented rate throughout the world and we are looking forward to many more collaborations of this type here on campus," said Professor of Practice, College of Emergency Preparedness, Homeland Security and Cybersecurity and Head Coach / Director of UAlbany eSports Michael Leczinsky
The Northeastern Regional Information Center (NERIC), a division of Capital Region BOCES, started a cooperative service for esports in Fall 2018. The intention is to leverage esports to engage students within and beyond competitive gaming. In addition to the competitions themselves, esports promotes engagement, collaboration, college opportunities and STEM-related career exploration for students. The number of participating schools in the NERIC league continues to grow each season.
"We are thrilled to partner with UAlbany to help facilitate these opportunities for so many students in the region and across the state," said Capital Region BOCES Senior Executive Officer Joseph P. Dragone, Ph.D.
Esports (electronic sports) requires a tremendous amount of critical thinking, communication, collaboration and creativity from players to achieve and sustain success. Unlock students' potential with interscholastic Esports by engaging them in this competitive platform that many students are playing independently. Esports is a very fast growing activity that can open multiple pathways to potential careers in this field. Learn how your school can get involved in Esports!