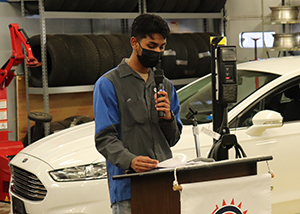 Kishaun Sookdowar, a standout in our Automotive Youth Educational System (AYES) program, can diagnose a rattle in an engine or a shimmy in the drive shaft. But, the Schenectady High School senior hopes to be diagnosing and helping cure something a little more serious in the coming years—bone fractures, tumors and more.
"Cars are something my brother and I have always loved—working on them, figuring out how things works, diagnosing problems and making them go faster," he said. "My sister's love of pharmacology, though, has led me to an interest in medicine."
"Medicine has always intrigued me with the human body. I want to learn more and be able to diagnose problems and help people," Sookdowar added.
After graduating in June, Sookdowar plans to attend Hudson Valley Community College to earn the prerequisite credits necessary to pursue a degree in medicine, specifically radiology.
Despite the shift in career pursuits, Sookdowar said the career and technical school program has prepared him well for life and given him the skills necessary to succeed in whatever career he chooses.
"Personally, I can say I have not only learned how to repair vehicles, but I have learned how to balance my life and make the most rational choices for my future. This is thanks to the trio of amazing instructors who everyday make this class an environment where each and every student has the opportunity to learn and grow," he said referring to teachers Scott Tessier, Brian LaCroix and Teaching Assistant Scott Hamel.
He also said he has learned the value of critical thinking.
"We here at Capital Region BOCES strive not only for excellence but also discipline in our practices. Knowing why something is needed is what I believe to be most important in what we learn," he said.
Learn About Our Career & Technical Education Programs
Recruiting for the 2022-23 school year for our Career & Technical School programs is now underway.
The Automotive Trades Technology program is one of more than 40 programs offered on one of three campuses for high school students. Learn about the many courses available to through our Career & Technical School.