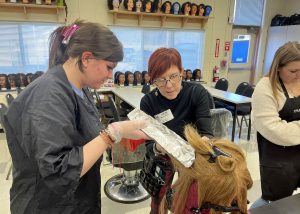 Paul Mitchell educator Maureen Munoz donated her time and shared her expertise on Tuesday with students in the Cosmetology program on our Career & Technical Education –  Schoharie Campus.
Munoz, who works locally in the Innovations Salon in Albany, taught students the art of balayage, a hair coloring/painting technique, said teacher Nancy Schmidt.
Paul Mitchell and Innovations Salon are some of more than 300 partners BOCES maintains relationships with. Through these partnerships, students are able to learn new techniques, launch careers directly out of high school or land jobs that will help them pay for future educational opportunities.
"It's great to learn a new technique in a different way than we may do it in the classroom," said Cosmetology senior Kristyna Butcher, from Cobleskill, after Munoz completed her presentation.
Learn more about our Cosmetology program
There are approximately 100 students enrolled in the two-year Cosmetology program on the Albany and Schoharie campuses. Students gain the skills and 1,000 hours of training and experience needed to take the New York State licensure exam.
The experience prepares students to enter the workforce upon graduation or to go to college and a have a leg up on future business competitors. For more information, visit the Cosmetology program section of our website.