One could argue that Kai Smith's career aspirations soared once he heard a presentation at Capital Region BOCES by business partner Piedmont Airlines. The once-aspiring auto mechanic is now working toward the goal of pursuing a career in aviation mechanics, an idea that had never crossed his mind prior to the early-2022 presentation.
"I heard a presentation by Piedmont last (school) year at BOCES and it sounded really interesting," said Smith.
Business partners bring awareness of career opportunities for students
Representatives of Piedmont Airlines met with students in March in several Career and Technical School programs—including Smith's auto trades technology class—in search of students interested in careers as airline mechanics.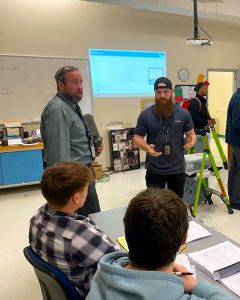 "It just really interested me," said Smith. "It's something that not a lot of people do and It's a good opportunity to get a good career and make good money."
Smith said his auto trades training is a good jumping off point for aviation mechanics, a point made by one of Piedmont's presenters—Mitchell Keegan, a 2016 graduate of Jefferson-Lewis BOCES who has launched a successful career as an airline mechanic.
"I graduated from BOCES with certification in auto repair because it's what I thought I wanted to do. After a while I decided I wanted something else," he said, adding the training he received at BOCES coupled with a one-year training program prepared him well for his career.
"I had a good basis of skills to work with," he said.
Piedmont officials said the jobs are plentiful for those who are desire careers in the industry.
"There's surprisingly a lot of jobs (for airline mechanics) in the Albany area—both for commercial and for private owners," Keegan said during the March presentation. "If you get the training, you will have a job."
BOCES Work-based Learning Coordinator James Haas arranged for Piedmont's presentation to students last year.
"Unfortunately most of our students are not always aware of the many different opportunities that are available to them," he said. " We make every effort to present opportunities like these to the students that usually involve transferrable skills and might even be corporate sponsored post-secondary tuition assistance like Piedmont does."
"It makes us really proud and excited when our students take advantage of the opportunities offered them," Haas added.
Learn more about becoming a business partner
Capital Region BOCES works with more than 300 business, union and education partners—like Piedmont—to help fuel the regional and state economies. Through these partnerships, students are able to launch careers directly out of high school or land jobs that will help them pay for future educational opportunities.
Many of these partners will take place in several career fairs BOCES will host later this school year.
To become a BOCES business partner, please contact Capital Region BOCES Managing Program Coordinator – Business & Community Partnerships, Nancy Liddle at nancy.liddle@neric.org.