More than two dozen high school students hope to be flush with knowledge of the plumbing industry courtesy of the experts from UA Local 7 Plumbers and Steamfitters union.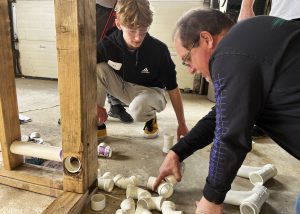 The Construction, Heavy Equipment and Electrical Trades students on the Capital Region BOCES Career & Technical Education Center – Schoharie Campus are learning this week the basics of the plumbing, including PVC draining/vent fittings, basic plumbing code, plumbing math, jobsite safety and more.
"We are here to get kids interested in the plumbing trades," said Tom Carrigan, marketing director for UA Local 7, Plumbers and Steamfitters.
During one aspect of the lesson, students leveled and connected PVC pipes within a frame of a wall.
"I am very pleased with what I see. I have done similar trainings with other high school students and these BOCES students are doing great," said Carrigan. "BOCES students' commitment to learning, motivation, attitude and teamwork skills are impressive," he added.
Students said they appreciate the ability to learn a new skill set and value the opportunities it affords them.
"This is pretty fun. These are skills I can use if I get to build my own house or if I have to make repairs," said Jeremiah Taylor, Construction/Heavy Equipment student from Schoharie High School.
"These are good skills to have," added Electrical Trades senior Lucas Grenier from Duanesburg High School. "It's pretty fun to do and it's something I can use wherever."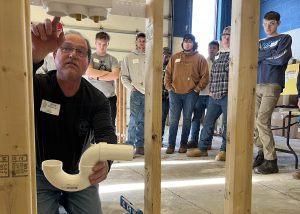 Carrigan said the union will offer the same training later this school year to students on the Capital Region BOCES Career & Technical Education Center – Albany Campus.
He added that the program was started as a pilot program for Capital Region BOCES to introduce the basics of plumbing and will be expanded to other BOCES around New York state.
Learn more about becoming a business partner
Capital Region BOCES works with more than 300 business, education and labor partners – like Local 7 – to provide training and career opportunities to the 1,200 students enrolled in Career & Technical Education programs at Capital Region BOCES.
To become a BOCES business partner, please contact Capital Region BOCES Managing Program Coordinator – Business & Community Partnerships, Nancy Liddle at nancy.liddle@neric.org.