Congratulations to Matt Millard, a Heavy Equipment Operation, Maintenance & Repair Teacher at our CTE – Schoharie Campus, for receiving the January 2023 Commitment Award for Excellence.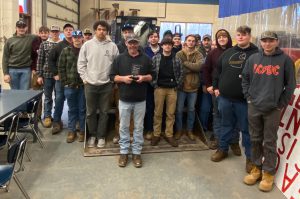 Matt was nominated by Matt Ward who shared the following:
"Matt Millard is an employee who exemplifies going above and beyond in his position as a Heavy Equipment Operation and Repair instructor.
In his classroom, Mr. Millard fosters respectful interactions with and among students, which in turn promotes a safe and productive learning environment. Students love being in his classroom and follow his lead by demonstrating a passion for the subject.
Mr. Millard is also a team player. In each of the last two years, he has taken multiple new teachers under his wing and mentored them. His guidance has helped these teachers develop and feel comfortable in their new profession.
Lastly, he is a 20+ year veteran in the teaching profession and continues to stay current with industry standards. Last year, he played an integral part in obtaining heavy equipment simulators for student use and this year he is working toward acquiring a drone program to teach for next school year. Matt continues to grow professionally and do whatever it takes to meet the needs of his students."
Congratulations, Matt Millard, and thank you for your dedication to your students and your colleagues!
The Commitment Awards were established to recognize employees who embody each commitment to a significant degree, and is one part of a three-tiered recognition program to build a culture of gratitude through acknowledgment and appreciation. Our Commitments — SERVICE, VALUE, EXCELLENCE, IMPROVEMENT, LEADERSHIP — embody what we do and who we are.