Just days after graduating from Guilderland High School and Capital Region BOCES, Pedro Mateo Sanchez became an entrepreneur, opening Café TEO in Albany.
Though only 17, Sanchez combined the skills he learned in the BOCES Culinary Arts and Hospitality Technology program with his desire to be his own boss to open the establishment.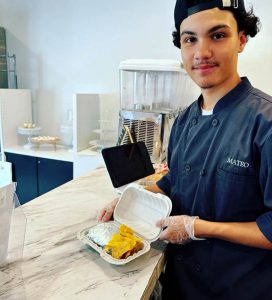 "It's pretty fun. It's a little stressful at times, but it's fun," said Sanchez.
Café TEO is a Hispanic-based eatery specializing in paninis and iced coffees, he said. Located at 532 Delaware Ave. in Albany, the café operates from 11 a.m. to 6 p.m. daily.
Sanchez said the decision to open Café TEO was based on two reasons.
"Cooking is my passion, and I want to work for myself," Sanchez said. "I want to be in charge."
He said he was very well prepared for the role of chef and business owner.
"BOCES taught me basic and advanced cooking skills and also allowed me to work with others to prepare banquets and buffets," he said.
Sanchez added that he was lucky to have the support of his family, including his mother, Elaine Escobales, who owns the building the café is located in and operates a bakery.
As to his future, Sanchez said Café TEO is only the first chapter of his story.
He is attending Hudson Valley Community College in the fall in pursuit of an engineering degree and will continue to operate the café on the side.
"I plan to be a civil engineer. Cooking is my passion and I want to do this for now, but ultimately, I want to be a civil engineer," he said.
Chef Paul Dolan, who taught Sanchez during his junior year, praised the ambitious graduate.
"Mateo was a very motivated and focused student," Dolan said. "He is a very respectful person who was always prepared and willing to seek out things that needed to be done without being asked. I wish him well and will be visiting his shop soon."