The latest adult The Nurse Assistant/Personal Care Aide/Home Health Aide/Nurse Assistant (NA/PCA/HHA) class started this week at Capital Region BOCES with more than a dozen adults seeking brighter futures through the program.
The 14 students began meeting July 24 in the Career & Technical Education Center – Albany Campus Health Careers labs and classrooms, where they are learning how to care for patients in hospitals and long-term care facilities.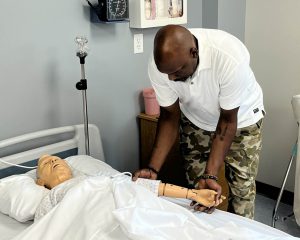 "I chose this class because I want to pursue my career and go on from this, getting my LPN (Licensed Practical Nurse certification) here next," said one of the students, Milagros Fuentes. Fuentes drives from Amsterdam daily to take the class.
Classmate Maryuri Padilla of Cohoes has similar aspirations.
"I want to build a career in healthcare, going on to the LPN class next. I just really like to help people so this is the right career path for me," she said.
The adult NA/PCA/HHA program is a great starting place for individuals who would like to work as a supportive caregiver in a health care setting or pursue further education in practical nursing or other health-related disciplines.
Students learn total patient care in both the classroom and through off-campus, supervised clinical experiences. Students prepare for the state-approved Personal Care Aide and Home Health Aide examinations, as well as the New York State Certified Nurse Assistant examination. Certification qualifies them to work in home, nursing home and assisted living settings.
For more information on the class, go to https://www.capitalregionboces.org/adult-education/classes-programs/pca-hha-na/.