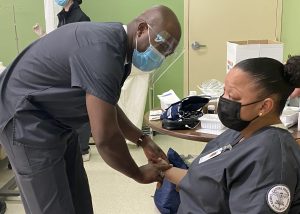 Tenneil Thompson, a Hudson. N.Y, resident who recently graduated from our Adult Practical Nursing program, is planning to use this learning to further his career in nursing.
"I have been a CNA for some time and decided it was time to advance myself," said Thompson, who attended the full-time nursing program while also working as a Certified Nurse Assistant (CNA) at Ghent Rehab Facility. 
"I have always had a passion for helping people, caring for people," Thompson said. 
Thompson was among the more than 100 full- and part-time nursing students who were recently celebrated for their accomplishment of completing the 1,100 hours of education and clinical training required to test for certification as Licensed Practical Nurses (LPN).
Once he earns his LPN certification, Thompson plans to work for a couple of years before climbing the next rung of the nursing ladder—and become a registered nurse (RN).
"[Adult Practical Nursing] is a wonderful program," said Thompson. "The teachers are especially magnificent. They want you to succeed and will do whatever it takes." 
Learn About Our Adult Education and Nursing Programs
Classes in Adult Practical Nursing begin again this fall. Learn about our Adult Practical Nursing program and the other program offerings for adult learners.