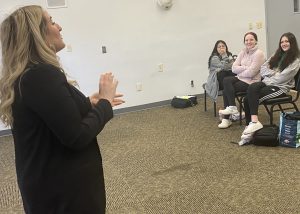 Melissa LaPorta, Spa Director at Tuscan Sun at Kimberly's and Rumors and a 2006 Career & Technical School program graduate, recently returned to our Albany Campus to talk with current students about the world of cosmetology.
After graduating, LaPorta helped opening the Benefit cosmetics counter while working for Macys in Albany. From there, she launched a career in spas leading to her current position with Tuscan Sun.
LaPorta credits BOCES with helping her focus on her academics in schools and giving her a vision for the future.
"Attending BOCES helped me in my academic struggles. It helped mold who I am and allowed me to express myself in a way that I was able to grow from and eventually prosper," LaPorta said.
During her presentation to students currently attending our Cosmetology program – which was focused on the various employment opportunities in spas – LaPorta stressed to the importance of academics, moving forward in life and completing tasks.
"It's learning about something you are passionate about, knowing you have a niche for that and furthering that," LaPorta said. "No matter what you think they are going to do after you graduate, take the state board (for licensure). Down the road you will never know when it will come in handy."
Learn About Our Career & Technical Education Programs
The Cosmetology program is one of nearly 40 programs offered on one of three campuses for high school students. Learn about the many courses available to through our Career & Technical School.