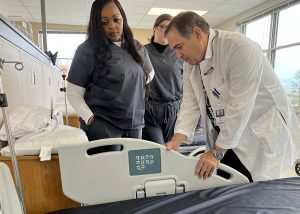 Interested in a career with room for growth and the potential for excellent compensation? Consider becoming an Adult Practical Nurse (APN). 
One of the fastest growing and highest demand jobs in the nation, nursing is a career with many rewards for those looking for a challenge.
The New York state-approved APN program encompasses 1,100 hours of classroom and clinical study and practice. 
Students who complete the program are prepared to take the National Council Licensure Examination and apply to become a New York state Licensed Practical Nurse (LPN). 
Full-Time and Part-Time Programs Available
Full-Time
10 months, September through June of the following year
Monday through Friday, 8 a.m. – 2:30 p.m.
Part-Time 
18 months, January through June of the following year
Hours:

January – April (first four months), Monday through Thursday, 3 – 7 p.m.
May – June of the following year (14 months), Monday and Wednesday, 3 – 7 p.m., Tuesday, 3 – 10:30 p.m.
Clinical Experience
Albany County Nursing Home 
Baptist Health Nursing & Rehabilitation Center
Ellis Hospital
St. Peter's School of Nursing
Teresian House
Articulation Agreements
Credits earned through our Adult Practical Nursing (APN) program will be recognized when earning an advanced degree at these area schools:
Ellis Medicine, Belanger School of Nursing
Maria College
New York State LPN-to-RN Articulation Model
Samaritan School of Nursing
Memorial School of Nursing
Excelsior College
2023 Adult Practical Nursing Graduation