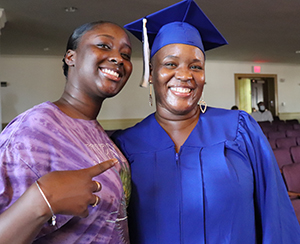 Nearly 180 adults from across the globe graduated from our High School Equivalency (HSE) and English as a Second Language (ESL) programs on Aug. 26, marking a major milestone in their lives.
The ceremony celebrated members of the class of 2020, who had their ceremony delayed by COVID-19, and 2021.
For some of the graduates, the celebration marked achievement of a lifelong goal, for others the completion of another chapter as they continue to pursue those goals.
Among the 2020 graduates was Katuray Koroma who finished the HSE program in just six months.
"To show (my daughter) that education is important, I had to do it for myself. This is something that has been a burning desire of mine, because of my upbringing and where I came from. This was something I had to put on the back-burner, but was something I really wanted to bring to the forefront now," Koroma said during the ceremony at Hackett Middle School in Albany.
Another of the graduates is Afghanistan immigrant Janan Fateh Muhammad, who competed the ESL program this year.
"BOCES is the best place to launch for a new career, to learn English as a new language and to earn your high school diploma," said Muhammad, who immigrated to the United States in 2018 and will now pursue a career as a heating technician thanks to having achieved a high school equivalency diploma.
The HSE and ESL graduates are just some of the approximately 1,000 adult learners we serve annually. Many of the adult learners are pursuing education in the post-secondary trade programs such as heating, ventilation, air conditioning (HVAC), welding and nursing.
"Demand is high for programs that allow students to re-direct their lives or to get an edge in a challenging workforce," said Maria Huntington, supervisor of adult education and programming at Capital Region BOCES.  "We are pleased to be able to offer these courses and provide adults across the region a new beginning."
Learn About Our Adult Education Programs
Learn about Capital Region BOCES' High School Equivalency (HSE) and English as a Second Language (ESL) programs, as well as dozens of other courses available to adult learners through our Career & Technical School.