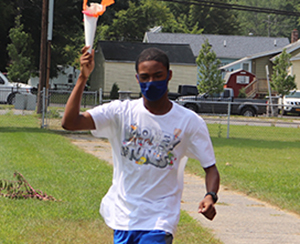 Students in our K-12 summer program recently celebrated their version of the Olympics, complete with a torch, competitions and something even the Tokyo Olympics lacked—fans!
From obstacle courses to relay races and volleyball, the games gave students a host of fun ways to exercise their bodies and their minds.
Principal Carol d'Estienne—on hand to cheer on students and hand out water— said the event was a great way to tie current events to the learning happening this summer for students.
Occupational Therapist Kim Patterson, who coordinated the Maywood Olympics, said the games were designed to build on students' organizational skills in fun ways.
"As part of high school TEACCH program this summer, the class set out to work on their executive functioning goals, specifically planning and preparing for an event," explained Patterson. "They decided to hold a Maywood Olympics, parallel with the Tokyo Olympics, and planned many fun events for their school friends."