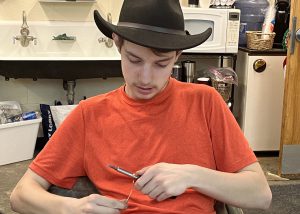 Adult Education student Griffen Boehlke has turned the skills he's earned in our Electrical Trades program into employment with a local electrical operation.
Boehlk began our program as a high school senior from Duanesburg and opted to return to BOCES as an adult to complete his education. Through the work-based learning that is part of every BOCES program, Boehlke works at Gray Electric Motor & Pump Repair Co. in Rotterdam. He will stay on as an employee once the work-based learning is done.
"I have been doing a lot of grunt work, but I will soon be repairing motors for them," Boehlke said. "It's great to get a job and an education through BOCES. I love the work and the people are pretty amazing."
Work-Based learning Coordinator James Haas, who helped the senior start work at Gray, said Capital Region BOCES has a long-term relationship with the operation.
"We have worked with Gray Electric for nearly a decade. Quite a lot of our students have gone through there and it has benefited our student and the company. I am glad Griffin is able to continue his work there and get a start on his career," Haas said.
Work-based learning builds career-ready skills,  community connections
Capital Region BOCES maintains  relationships with more than 300 business, education and labor entities who work with students and educators at the new Albany and Schoharie campuses. Our business and community partners provide training, career-preparation events, work-based learning and internships that prepare Career & Technical Education students for careers that exist now and those that will exist in the future.
Adult Education opens doors
Whether you're interested in launching a new career, learning English as a new language or earning your high school diploma, Adult Education program through  our Career & Technical Education Center is here to meet your needs. Learn about Adult Education and the 40+ programs and courses of study we offer.