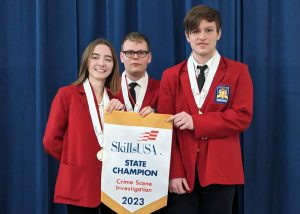 High school senior Rhiannon Islip, who is poised to graduate from our Criminal Justice program this June, says attending Capital Region BOCES  is one of the best decisions she's made in her life.
Along with a foundation in Criminal Justice, Islip has been preparing through our program to attend college and eventually launch a career helping criminals address their actions.
"I plan to study forensic psychology in college because I want to help people understand what they did what they did and help people," Islip said.
Career and college preparation
Islip said BOCES has provided her with fantastic preparation for this intense career with an understanding of law, criminal actions and related skills necessary to help law enforcement and criminals.
"Through Criminal Justice, you gain a broad understanding of laws and people," said Islip. "And the program is hands-on, which helps you for the career you want to go into."
Islip, who will attend Bryant & Stratton College in the fall, has made the most of her time at Capital Region BOCES, seizing upon multiple opportunities to build her future.
From taking part in SkillsUSA competitions to enrolling in the college credit-awarding Jump Start program through Bryant & Stratton, Islip has taken part in resume-building experiences.
"Rhiannon is actively involved in class activities and consistently volunteers to be a group leader and displays many leadership skills." said Crinimal Justice teacher Gerald Place. 
In SkillsUSA, Islip has served as chapter president and competed in the regional and New York State CSI competition, working with two classmates to win the state championship this year.
"I really like the competition and testing our skills," said Islip, who will compete at the national SkillsUSA competition in Atlanta, GA in late-June. "I also really enjoy meeting people from different schools who are also interested in criminal justice and who are just fun to be around."
Islip said she appreciates that BOCES works with Bryant & Stratton to offer the opportunity to get a head start on college.
"I really like that through Jump Start I got to go to the college, meet the people a get a feel for the college, and of course, you get to earn credits that gives you a head start on college," Islip said.
"At BOCES, you have fun doing something you love," she continued. "Going to BOCES is one of the best decisions I have made in my life."
Learn About Our Career & Technical Education Programs
The Criminal Justice program is one of nearly 40 programs offered for high school students. Learn about the many courses available to through our Career & Technical Education Center.