Approximately 150 adults were matched with potential employers on Wednesday during a Capital Region BOCES Health Careers Jobs Fair for students in the Adult Health Careers program.
Healthcare providers from across the spectrum of services recruited students as they sought to counteract the impacts of the national nursing shortage. Employers on hand ranged from Albany Medical Center and Baptist Health Nursing and Rehabilitation Center to St. Peter's Health Partners and The Wesley Community. Recruiters and administrators handed out applications, described their institutions and even conducted interviews with the students who will be graduating the BOCES adult programs in the coming weeks.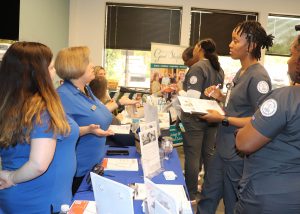 Vincent D'Angelo, a nursing administrator at Albany Medical, said the career fair provided a great opportunity for healthcare institutions who are facing a "big need for new hires across the board."
"It's a great program because you get a lot of variety in the graduates and in what they want. Some want to be on the floor, others in outpatient practice, others elsewhere," he said.
"This is a wonderful opportunity to find dedicated nurses ready to enter the nursing field," added Carmen Acosta of Maxim Health Care Services. "It's very hard to find nurses right now. People just aren't aware of the opportunities that exist so events like this are wonderful."
Student Tiandra Wright of Albany said she was awe-struck by the opportunities.
"I never thought I would see this day," she said. "It amazes me the job opportunities that are out there for all of us."
Classmate Dante Pierotti said the event was very promising for him.
"I have been offered a couple of jobs today and I already have one previously lined up. This is a great field to be in," the Malta resident said.
Paula Negri, principal of the adult health careers program, said the annual career fair is mutually beneficial to employers and students.
"This is a great opportunity for students to get their name out there and find the right job for them and an equally great opportunity for employers to find well-trained workers ready to be hired," she said.
Negri added that the job fair is an integral part of the BOCES experience for students.
"It's all part of the BOCES model – educate, graduate, employ," she said.