An area teenager who left high school as a result of bullying has found a welcoming and friendly environment in a Capital Region BOCES Adult Education program.
Dylan Quiros attends the Capital Region BOCES High School Equivalency program (HSE) as he works towards earning a diploma and launching a career as an advocate. Born with thrombocytopenia absent radius (TAR) syndrome, Quiros said he left a traditional high school setting because he was bullied.
"I enrolled in BOCES, and it's an amazing program. It's like a big family. The students are friendly; the teachers are amazing," said Quiros. "They care about you and want you to succeed in your life goals."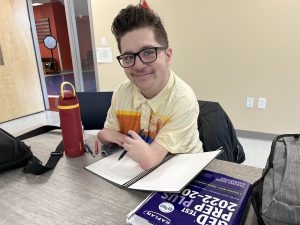 TAR syndrome is characterized by bilateral absence of the radii in the arm with the presence of both thumbs. What this means is that Quiros is missing the majority of both his forearms, but he has all of his fingers, and his arms are a bit shorter than normal.
"I am able to do everything anyone else can do. It may be a bit more difficult for me to do and it may take longer, but I can do it!" he said.
A motivational speaker and community volunteer, the Schenectady resident said he appreciates the comradery of BOCES and the friendly atmosphere, as well as teacher Frank Finch's education style.
"The environment at Capital Region BOCES is very friendly. Everyone takes into consideration what is going on in your life and takes it into account," he said. "Frank is a great teacher – he makes things so much easier to understand."
Quiros hopes to graduate from the program later this school year and then continue his work at Albany Medical Center, where he has been a part of their Children's Hospital radiothon in the past and is scheduled to be a part of it again this year.
"My goal is to continue to work within Albany Med. I have a job waiting there for me when I turn 18. I hope to continue helping others who have health issues to overcome and to start my next chapter in life," he said.
Teacher Frank Finch praised the motivated teen.
"Dylan is a fine example of why I love working as a high school equivalency teacher. He is a very curious, interesting student who brightens everyone's day," Finch said.
Learn more about our Adult Education programs
Open to those 16 years of age or older, the Capital Region BOCES Adult Education HSE program is taught by a certified teacher who works with students to conquer their challenges, so they can successfully pass the exams necessary to earn a high school equivalency diploma. The curriculum focuses on preparing students in five subjects: reading, writing, social studies, science and math.
Finch said the program strives to provide the education needed in an environment that is accepting.
"In our Adult Education program, I am fortunate to be able to help a wide range of students identify and achieve big goals. For many of our students that means improving math and reading and writing skills. My job is to partner well with students to meet their needs while striving to provide them with an enjoyable academic experience—a big first for many of them, whom I hope will become independent lifelong learners and successful leaders in their own families, places of work and communities," he said.
For more information on the program, visit our HSE webpage.