Reagan Pedinotti hopes to forge a career as a pipe welder but that is not putting a halt to his artistic and creative passions.
In fact, the Schalmont High School senior has used those passions to fuel his love of welding and spark a better understanding of the skills involved in it.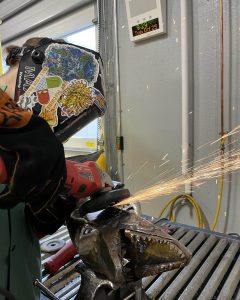 Pedinotti is in his second year of the Welding and Metal Fabrication program at the Career & Technical Education Center – Albany Campus and is displaying his artistic and welding skills in the upcoming New York State SkillsUSA in April where his metal shark sculpture is entered into a sculpture contest.
The 17-year-old spent much of last school year completing the detailed steel and copper sculpture when not working on other projects in one of two BOCES welding labs.
He said the painstaking work welding, fabricating, grinding and forging really gave him a better understanding of welding.
"All of the simple processes I used to make this shark and the outside the box thinking I had to do to solve some of the problems I came into will help me when I go to work pipe welding," he said.
The senior isn't fishing for compliments for his shark sculpture; rather the satisfaction of completing the design and bringing it to life is enough for him.
"It has been really fun to see this project through," he said.
Pedinotti was inspired to do the shark sculpture by his older brother.
"All of my life my older brother has shown me cool pictures and facts about sharks and I am just fascinated by them," he said.
The sculpture was recently displayed in the 2023 High School Art in Three Dimensions exhibition at Mohonasen High School.
The teen said he appreciates not only the creative aspect of welding, but the hands-on work and professional outlook for the career.
"Welding is a job opportunity that allows me to work with my hands and make good money and be creative. You can't get better than that," he said.
Pedinotti's teacher Don Mattoon said artistic ventures are an often overlooked aspect of welding.
"There is an artistic elementary to welding that can be used to forge a career or as side jobs for welders. The creativity and artistic vision that goes into work like Reagan's should not be lost on anyone," he said.