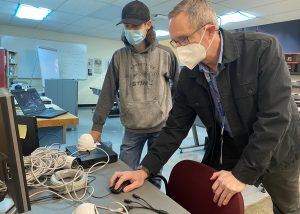 Adam Burton hasn't decided whether a career as a lineman or an electrician is right for him. What the Schoharie senior knows for sure is that he has earned the skills he needs for success in either career through our Network Cabling Technician & Smart Home Technology program.
"I feel like I have a better understanding and knowledge of the technology and what it takes to be successful in these fields," said Burton.
Burton and his classmates are learning everything from network cabling using copper-based systems to applied systems integration to energy management systems and telephone systems. Along the way, they have earned numerous professional certifications such as Network Cabling Specialist that have prepared them for careers nationally that pay, on average, $65,700.
"Our program is preparing people to become a part of the workforce needed to build out and cable a new infrastructure. We have the right program in place and are actively looking for the students like Adam who are interested in these great careers," said teacher Ed Henson, a 35-year veteran of Verizon.
Businesses such as Verizon, National Grid and MIDTEL partner with our program to teach students everything from network cabling using fiber- and copper-based systems, Smart Home technologies, voice over IP phone systems (VoIP) and 5G wireless antenna installation.
As a result of the business connections made learning in our program, Burton has secured a job as an electrician's helper in Middleburgh. He says he loves the work and that the experience is helping him hone in on how he wants to use his professional skills after graduation.
To better meet the needs of our students and component school districts, our Network Cabling Technician & Smart Home Technology program will be moving to our Career & Technical School Albany Campus at the start of the 2021-22 school year. Learn more about this and the other 40+ programs offered through our Career & Technical School,