April 2021 Commitment Award For Leadership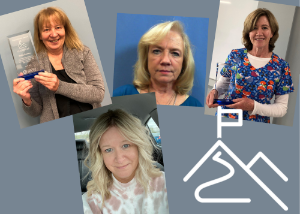 Congratulations to Jody Coyne, Kelly Livingston, Kathy Pavone and Kathryn Stone—our Rapid Testing Team—for winning our April 2021 commitment award for leadership.
At the start of 2021, Jody, Kelly, Kathy and Kathryn were identified as key members of BOCES' Rapid Testing Team. In addition to their regular work assignments, the team developed a process to COVID test asymptomatic students and staff for surveillance purposes at four of our instructional sites and the 900 building during February and April. They also committed five days to test staff and students out at one of our component districts.
The team conducted the testing with a high degree of efficiency and compassion, and was flexible and accommodating throughout all testing sessions.
We are thankful to have them keeping us safe at Capital Region BOCES!
The Commitment Awards were established to recognize employees who embody each commitment to a significant degree, and is one part of a three-tiered recognition program to build a culture of gratitude through acknowledgment and appreciation. Our Commitments — SERVICE, VALUE, EXCELLENCE, IMPROVEMENT, LEADERSHIP — embody what we do and who we are.