June 2022 Commitment Award For Value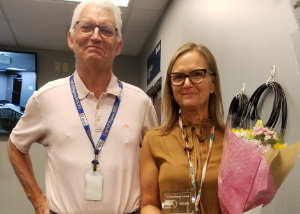 Susan Frank, a program specialist with our Shared Food Service, has received the June 2022 Commitment Award for Value.
In nominating Frank for this award, Director of Food Service Programs Jeff Bradt and Senior School Lunch Director Eric Bush had this to say:
"Sue Frank works closely with the school districts that we service in the Shared Food Service Program.  The added value that the school districts receive that Sue is directly responsible for is immeasurable.  
There are so many aspects of the service that Sue handles for the districts.  To name a few, she is responsible for free and reduced meal applications, informing families about negative balances, works closely with Child Nutrition on a variety of topics.  
The wealth of knowledge that she brings to her job is shared with the people that we work with in the districts.  Most everyone knows that if there is a question about Shared Food Service, Sue is the person to go to. 
Sue's attention to detail, knowledge, and determination to find the best answers to our division's problems are amazing and so appreciated. Her demeaner, humor, and upbeat daily outlook is refreshing. She is always helpful and makes our jobs just a little bit more enjoyable. There are no words to describe the value that Sue brings not only to the school districts but the BOCES in general."  
Congratulations and thank you for all you do, Sue! 
The Commitment Awards were established to recognize employees who embody each commitment to a significant degree, and is one part of a three-tiered recognition program to build a culture of gratitude through acknowledgment and appreciation. Our Commitments — SERVICE, VALUE, EXCELLENCE, IMPROVEMENT, LEADERSHIP — embody what we do and who we are.