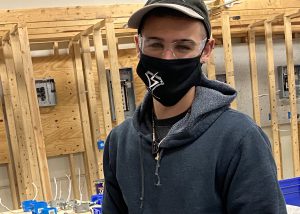 Roberto Gonzalez, a recent Ravena-Coeymans-Selkirk High School graduate, found the education he needed – and a job he likes – through our Electrical Trades program. 
Gonzalez chose the Electrical Trades program for his final two years of high school because he is a hands-on learner and wanted to good career path to follow after graduation.
"I do well with hands-on work. I am not a test taker and I can't sit for long, but I learn when I am up doing something," Gonzalez said. "Electricity is a good career to go into because you can work with your hands and make good money."
During his time in the program, Gonzalez learned fundamental skills in electrical theory through classroom instruction and hands-on shop lessons.
Gonzalez turned that knowledge and skills into a career, learning the skills needed to be hired by BOCES business partner TCI of New York, Inc. He was one of 16 students to be highlighted in May at BOCES' inaugural National Signing Day.
"I definitely did not expect to get a job at school. I expected to come here and get an education, but the job part is pretty cool. It's nice to have a career and to know I will be treated well and have the opportunity to learn, grow and advance," Gonzalez said.
TCI officials say they welcome the opportunity to hire BOCES graduates like Gonzalez.
"Over the years, TCI has partnered with Capital Region BOCES on several work-based learning opportunities for students leading to full time careers at our company. The training BOCES provides ensures these students are prepared to come to work. We are proud to welcome Roberto to the TCI team," said Mark Westcott, a communications director for the corporation.
Learn About Our Career & Technical Education Programs
The Electrical Trades program is one of nearly 40 programs offered for high school students. Learn about the many courses available to through our Career & Technical School.