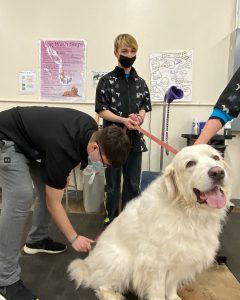 Jason Foster wants to be a veterinarian and he chose Capital Region BOCES to achieve that career goal.
The Class of 2022 Watervliet Junior-Senior High School graduated learned about pet care in the Career and Technical School's Pet Tech program as he prepared to go to college and learn the veterinary sciences.
"The Pet Tech program is wonderful. It let me learn about pet care and helping me achieve my goal of being a veterinarian," he said during a recent class. Moments before, Foster and his then-classmate Matthew Bellinger of Shenendehowa groomed Falcor, a canine client of the program.
Students like Foster and Bellinger learned animal behavior, care of a variety of classroom pets, basic dog training, pet grooming, care and best practices for boarding animals under the guidance of teacher Helen Thompson.
They also learned about customer service, written and spoken communication, office and computer skills, phone etiquette, budgeting and money management, inventory and ordering, advertising, basic accounting and business math—all skills necessary to operate in a business and retail setting.
"I love working with all of the dogs, my favorite animal here, though, are probably the fish," Foster said.
Foster plans to study the veterinary sciences in college.
"I have always loved animals and I have always wanted to be a vet," he said.