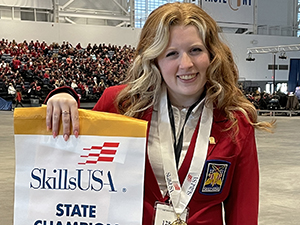 Eight Capital Region students placed among the top three finishers in their respective job skills competitions in New York state during a recent statewide SkillsUSA competition.
Leading the delegation was Jocelyn Howe, a junior from Mohonasen in the Capital Region BOCES Global Fashion program, who won the New York State SkillsUSA Championship in the Job Interview contest.
"It's a dream come true," said Howe. "It's an amazing experience to be able to have the opportunity to represent this program, this school and our teachers and win first place in the state in a program that I didn't even know existed a few years ago."
Earning second place medals were Game Design and Implementation students William Kruk of Schalmont and Gavin Christman of Cobleskill-Richmondville. The duo created an online, multiplayer game with players who can "attack each other."
Automotive Youth Educational System (AYES) program student Matt DeCelle of Cohoes, who competed in the automotive service technology competition, won a third place medal.
Also winning a third place medal was the team of Emily Burdikoff and Tessa Venditti, both from of Burnt Hills-Ballston Lake (BHBL), who worked with Teacher Barb Gorbaty to master their design skills for the Banner Competition.
Cosmetology student Aimee Cook of South Colonie and her model Eve Gerke of Guilderland also brought home third place medals after competing in the aesthetician competition. 
SkillsUSA Competition Educational… And Rewarding
Students said the competition proved to be not only rewarding, but also educational.
"In that moment, I realized the hard work and dedication myself and my partner put into it, paid off," Burdikoff said of the awards ceremony.
"In the beginning, I was really nervous, but in the end it really paid off and I enjoyed the whole experience," Venditti added.
"It's exciting. My skills are better than they thought they were," said Cook. "It was a good competition with good competitors."
"I didn't take first, but I learned a lot about myself and my skills and the experience was great," added DeCelle. 
The state competition took place April 27-29 in Syracuse. Hundreds of students from across New York state competed in dozens of competitions. A contingent of nearly 40 high school juniors and seniors from a dozen school districts represented Capital Region BOCES at the competition.
SkillsUSA is a professional organization teaching technical, academic and employability skills that help high school and college students pursue successful careers. Members build these skills through student-led charitable acts, leadership conferences and other activities. Students in SkillsUSA participate in hands-on competitions in various fields such as science; technology; engineering; mathematics; building construction; and heating, ventilation and air conditioning.