Area students sign letters of intent to work in the skilled trades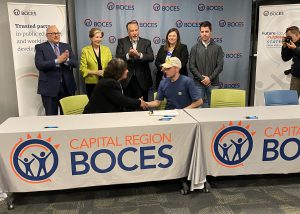 The first annual Capital Region BOCES National Signing Day was a success with 16 high school students signing letters of intent with businesses as dignitaries, family and educators looked on.
New York State Department of Labor Commissioner Roberta Reardon spoke at the May 5 event, saying "as Commissioner of Labor I constantly call on business communities to establish partnerships like these."
"Everyone here deserves a round of applause for creating a pipeline of skilled workers to keep our economic momentum going. These students you see here today are the keepers of the economy," she added.
The Capital Region BOCES National Signing Day was affiliated with the National Coalition of Certification Centers (NC3) National Letter of Intent Signing Day, mirroring the NCAA's National Signing Day for athletes who commit to play sports in college. It is designed to honor students who are entering a technical field and to celebrate the dignity of work.
"Pursuing your career now is as important as going to a four year college or playing a sport," BOCES' Senior Executive Officer Joseph P. Dragone, Ph.D. told the students.
Support for the School-To-Work Pipeline
Among those speaking at the event were Katie Newcombe, Chief Economic Development Officer for the Center for Economic Growth, and Todd G. Helfrich, President and CEO, Eastern Contractors Association, both of whom supported the value of BOCES in the school-to-work pipeline.
Among the students signing a letter of intent was Nazias Hunter of Schenectady, who is going to work for Ren Tools, Inc, of Schenectady.
"This is a once in a lifetime experience, it's exciting," he said.
Patrick Belletti who co-owns Ren Tools said partnerships like the one his business maintains with BOCES is much needed.
"It's what is needed. We are all in need of workers, Every machine shop needs skilled workers like Nazias," he said.
Nate Bartlett, of Cobleskill-Richmondville, said he would not be signing with the New York State Department of Transportation if it wasn't for his time at Capital Region BOCES.
"During my time at BOCES I have gained skills that will not only help me in the work field, but skills I will carry with me for the rest of my life. My experience at BOCES has been nothing short of incredible. With the help of my teachers who only look to further my skills and knowledge, I am able to stand here today and speak in front of all of you about how BOCES has changed my life. Capital Region BOCES has changed my life and put me on the road to success."
Mark Westcott of TCI Inc. of NY said his firm's partnership with BOCES, which led to the signing of student Roberto Gonzalez Jr. of Ravena-Coeymans-Selkirk, has already paid dividends for the company.
"When the students come to work with us, they come ready to work and with the skills they need," he said.
Celebrating our students and their future employers
Students signing letters, their Capital Region BOCES program, home school district and employer are as follows:
Caitlin Atkinson – Manufacturing and Machining Technology, Cobleskill Richmondville (CRCS), Package One
Nate Bartlett – Commercial Construction/Heavy Equipment, CRCS, New York State Department of Transportation
Robert Brykailo – Commercial Construction/Heavy Equipment, Sharon Springs, International Union of Operating Engineers 158
Harley Butler – Diesel Technology, Schoharie, Lancaster Development, Inc., Tri City Highway Products
Stephen Cote – Commercial Construction/Heavy Equipment, Schoharie, North Atlantic States Regional Council of Carpenters – Albany Local 291
Garrett DuPont – Commercial Construction/Heavy Equipment, Middleburgh, J.H. Maloy
Roberto Gonzalez Jr. – Electrical Trades, Ravena-Coeymans-Selkirk, TCI of NY, LLC
Timothy Graves Jr. – Heating, Ventilation, Air Conditioning and Refrigeration (HVAC/R), Scotia-Glenville, Eastern Heating & Cooling
James Holliday – Commercial Construction/Heavy Equipment, Duanesburg, International Union of Operating Engineers 158
Nazias Hunter – Manufacturing and Machining Technology, Schenectady, Ren Tools
Daniel Karl – Commercial Construction/Heavy Equipment, Schalmont, Kamco Supply of New England-Albany
Joe Lawyer – Sterile Processing Technician, Schoharie, Albany Medical Center
Aidan Martin – Electrical Trades, Burnt Hills-Ballston Lake (BHBL), hired by Golden Solutions Electric
Quinn Sheedy – Electrical Trades, BHBL, Golden Solutions Electric, LLC.
Allison Umstadter – Manufacturing and Machining Technology, Scotia-Glenville, Greno Industries Inc.
Cody Walter – Commercial Construction/Heavy Equipment, South Colonie, Operators Union, J.H. Maloy
Capital Region BOCES Signing Day video
Watch a video, produced by the New York State Department of Labor,  featuring Our Career & Technical School students on this year's Signing Day: