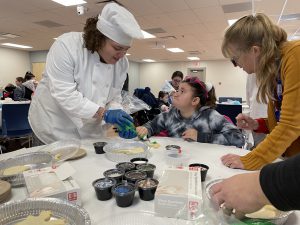 The holiday season got a whole lot sweeter when learners from our Maywood Academy joined the students from the Culinary classroom of Chef Erica Weakley at our Career & Technical Education Center – Albany campus for some festive holiday cookie decorating.
New Maywood and Career & Technical Education facilities opened on our Albany campus at 925 Watervliet Shaker Road this September, expanding opportunities for students and educators to collaborate on programming across our two divisions.
"Having the Career & Technical Education Center right across the parking lot has opened up so many new possibilities for our Maywood students to explore things that were just not possible logistically when we were in our other building," said Maywood Principal Gabe Barbato. "This was such a happy event for our students and I can't wait to see what more this opens up for the kids."
Special Education Teacher Katie diPierro, whose students attended the cookie decorating event, said often times students' disabilities can make participating in the activities other children and families do unavailable to them.
"Many of our students don't get to participate in activities like this," said diPierro. "Being near the CTE center gives us the opportunity to work together to structure activities so that the students can do things on their own terms, and have the kinds of experiences other children and families regularly have."
Students enjoy the opportunity to learn together
The teens who attend the Culinary Arts & Hospitality Tech program were equally enthusiastic about this opportunity–every one of them in the class wanted to participate with the activity–and said they are hoping for more such opportunities down the road.
Culinary student Alicia Bellinger, a junior from the Shenendehowa Central School District who hopes to one day work in case management, said the experience helped her understand more about working with individuals with disabilities.
"As soon as the students came in I knew this was going to be a really good experience for them and for me," Bellinger said.