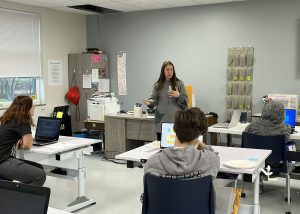 Several students in the Game Design and Implementation program are learning the fine art of project management from an area technology executive.
In an era when employers nationwide say they can't find workers with time management, communication and leadership skills, CanCode Communities CEO Annmarie Lanesey and her staff of experts are sharing their knowledge of those skills with students in the Career & Technical Education program located on the Albany Campus.
CanCode Communities is a non-profit organization previously known as Albany Can Code, which provides coding training and digital literacy programs for professionals, as well as K-12 programming.
Students taking part in the 10-week program are learning everything about managing projects in a technological world. Specifically, they are learning how to analyze information and translate that into applicable project management tools.
During a recent session, Lanesey introduced students to the term "scrum masters" and how people with these skills are highly coveted in the tech industry because they have a great understanding of time and project management, effective communication with employees and problem solving skills.
Training the next generation for the workplace
Lanesey said working with students at Capital Region BOCES is crucial to the region's future.
"CanCode is dedicated to creating a diverse and inclusive tech talent pipeline for the Capital Region, and beyond. Our partnership with BOCES is at the heart of that mission. If we don't train young people today, we will not have a robust pipeline of future talent for high-paying tech sector careers," she said.
Students said they enjoyed the lessons.
"These skills are good to have. Project management is definitely difficult to do and learning how to be better at it will help me in the future and professionally," said Derek Hillicoss, a junior from Voorheesville.
About the Game Design and Implementation program
Students in the Game Design and Implementation program learn the "ins" and "outs: of video game design, 3-D modeling and computer programming. They also learn the history of games and create a wide variety of games, including board games, card games and dice games while exploring various art concepts during the first year and 3-D modeling during the second year of the program.