Several area high school students interested in careers and auto and truck repair spent a day recently shadowing the experts at Penske Corp.
Automotive Trades technology students from our Career & Technical Education Center Albany and Schoharie campuses spent Feb. 15 at the Penske's Warehouse Road location in Albany, learning first-hand the experience of an auto technician.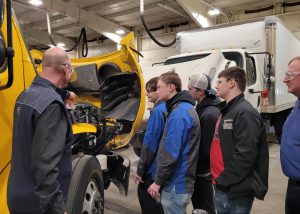 "It was refreshing to see and hear the passion that these young adults had for the automotive/trucking industry and to realize that the future of our profession should be well served when they enter the workforce," said Stanley Pollard, Branch Service Manager for Penske.
The high school seniors learned about the diagnostic equipment and tools used in the daily operation of Penske and how the repair team ensure that Penske's fleet of equipment stays on the road.
Site visit shows students career opportunities available
Students said they enjoyed the opportunity to not only learn, but also network with industry professionals and develop a new career option. Several of the students said they would seek employment with the company.
Penske representative Connor Kasuba earlier this school year recruited students in the Automotive Trades program at the Albany Campus. At the time, he said Penske operates more than 3,000 locations with 60,000 employees around the world in everything from transportation logistics to truck leasing to racing. Kasuba went on to detail how the work the students are doing now at BOCES could lead to a great career.
"It's important for companies like Penske to reach out and engage students at an early age, especially if they are growing their business and need workers," said Kasuba.
There are 96 students enrolled for the 2022-23 school year in the Automotive Trades technology program on the Albany and Schoharie campuses.
Learn more about partnering with us
Capital Region BOCES Managing Program Coordinator-Business & Community Partnerships Nancy Liddle praised Penske's commitment to BOCES and its willingness to help "the next generation of automotive trades professional build knowledge and gain a foothold in the industry."
Capital Region BOCES works with more than 300 business, education and labor partners – like Penske – to provide training and career opportunities to the 1,200 students enrolled in Career & Technical Education programs at Capital Region BOCES.
To become a BOCES business partner, please contact Capital Region BOCES Managing Program Coordinator – Business & Community Partnerships, Nancy Liddle at nancy.liddle@neric.org.