Learners in our Work-Based Learning program got a jump-start–in some cases, literally!–on the recent winter break week with a morning of sensory-friendly games and activities at Bring on the Spectrum (BOTS) community space and sensory gym. 
BOTS is an Albany-based space where individuals with autism and similar conditions–from the very young to adult–can play, explore and learn in ways that are sensory-sensitive and sensory-friendly. BOTS offers such activities as swings, slides, games and safe climbing apparatus that help with fine and gross motor skill development and improve balance, movement and spatial orientation. There are also light sensitive rooms for exploration, and community spaces for parties and volunteer-led activities such as art, music and yoga.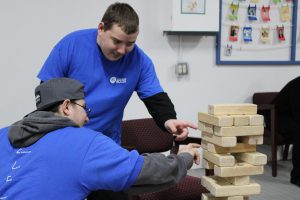 BOTS founder Lisa Audi was looking for a space for her own daughter, who has autism and is deaf, to play and learn happily like other kids. Audi says what sets BOTS apart from other sensory-friendly settings in the area is that it is designed for and continues to evolve to meet the varied interests and needs of individuals of all ages and abilities.
Brent Pierce, the lead teacher in our Work-Based Learning program and member of the BOTS advisory board, said BOTS and gatherings such as this have been a great way for students to explore their interests and spend quality time with their classmates and peers from other schools.
"[Bring on the Spectrum] is unique because it is meant for and designed for individuals with intellectual disabilities," said Pierce. "Lisa [Audi] is working to build a community where the young adults in our program can interact in a safe space with their peers from around the Capital Region, and where they can practice the social skills and soft skills that our programs have worked so hard with them on."
"[Our recent visit to BOTS] was great because many of the young people there knew each other from other programs they've attended but may not have seen in a while," Pierce continued. "Many of our students don't have true friends outside of our classrooms. BOTS is a place where they can be with friends, make new ones and not have to worry others are 'judging' them."
Pierce said the plan is to make visits to BOTS a regular occurrence—primarily as social outings but possibly for future work-based learning and exploration.
Currently, BOTS is supporting 2022 Work-Based Learning program graduate Jakob Winters, who is working to become certified to lead adapted play and movement activities with children. Pierce said this partnership with BOTS and the support they are giving has been an exciting post-graduate opportunity for Winters, whose career goal has been to become a personal trainer.
Learn more about our Special Education programs
The Work-Based Learning program is designed to help students learn how to work well, be employable, independent and successful, and to give back to their community. Learn more about Work-Based Learning and our other Special Education programming for students, kindergarten through age 21.