June 2021 Commitment Award For Value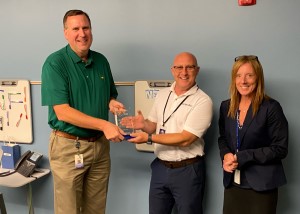 Congratulations to Mike Sylofski for winning the June 2021 Commitment Award for Value.
Mike's proactive leadership with the Webex Teams initiative has added value by fostering an increase in collaboration and cooperation among colleagues within and across our divisions. 
Mike was proactive with the Webex Teams initiative even prior to COVID-19. Webex Teams allowed us to continue providing services to our school districts almost immediately when moving to the virtual world and throughout the pandemic. Having the tools to provide services was critical to our districts. Mike and his team were monumental in quickly getting Webex licenses to countless school districts and BOCES so they could communicate with staff and continue educating their students. His team facilitated large virtual initiatives such as board meetings, conferences, large scale meetings, graduations, and provided ongoing valuable support for Capital Region BOCES staff and districts using Webex Teams. 
Congratulations and thank you, Mike! 
The Commitment Awards were established to recognize employees who embody each commitment to a significant degree, and is one part of a three-tiered recognition program to build a culture of gratitude through acknowledgment and appreciation. Our Commitments — SERVICE, VALUE, EXCELLENCE, IMPROVEMENT, LEADERSHIP — embody what we do and who we are.